Juke Box Heroes - The Original Members from 70th Bands
Dörgestraße 28
37520
Osterode am Harz
Event organiser: Konzertbüro Rheydt, Mülgaustraße 178, 41199 Mönchengladbach, Deutschland
Event info
Juke Box Heroes – the original from england

Jeff Brown gründete die Band 2005. Die Idee der Gruppe war, eine Band von Original Glam Rock-Superstars mit langjährigen Mitgliedern bekannter Glam Rock-Bands zu präsentieren und eine Show von Seventies-Klassikern zu liefern, die Musikgeschichte geschrieben haben.
Erleben Sie songs wie" Ballroom Blitz" und " Fox on the run" von der Band SWEET, "Coz I Luv You" und "My Oh My" von SLADE, "Bye Bye Baby" on BAY CITY ROLLERS, "Angel Face" und "Come on" von der GLITTERBAND, "Chicago Night Died" und "Billy Don´t Be A Hero" von PAPERLACE, "Get it on" und Hot Love" von T-REX.
Jeff Brown – Ex Sweet
Phil Hendriks – Ex Bay City Rollers
Ian Twynham – Mud
Pete Phipps – Glitterband
Philip Wright – Paperlace
Dave Major – T- Rex
Passend benannt, sind die Original Jukebox Heroes eine Live-Action, ein spektakuläres Select-a-Disc-Erlebnis, das Sie zurück in die Zeiten von Glitter und Glamrock katapultieren wird!
Die Show ist vollgepackt mit Glam Rock-Klassikern und einem spektakulären visuellen Genuss, der das Publikum begeistert hat und alle Gäste standen vom ersten Moment, auf den Stühlen und haben mitgesungen. Damit waren die Original Jukebox Heroes, mit der
1. Tournee in Deutschland, im Januar 2020, sehr erfolgreich. Die Band kommt wieder zurück, mit neuer Hitliste und veränderter Besetzung. Alles 100% live, immer!
Videos
Location
Stadthalle Osterode
Dörgestraße 28
37520 Osterode am Harz
Germany
Plan route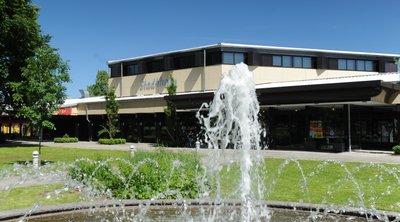 Am Rande des schönen Kurparks liegt die Stadthalle Osterode in zentraler Lage mit Blick auf die eindrucksvolle Schachtrupp-Villa. Dieser großzügig angelegte Außenbereich macht jede Veranstaltung vom ersten Moment an zu einem besonderen Erlebnis. Mit ihrem erlesen bunten Programm lädt die Stadthalle zu den verschiedensten Veranstaltungen und ist so ein gastlicher Treffpunkt für Jung und Alt.

Seit 1973 ist die Stadthalle fester Bestandteil des kulturellen Lebens in Osterode. Mit ihrer großen Platzkapazität von bis zu 2000 Besuchern lockt sie zu den unterschiedlichsten Gelegenheiten mit ihrer Gastlichkeit. Die angeschlossene Gastronomie macht mit ihrem Service vom Kaffee bis zum anspruchsvollen Buffet jedes Event zu einer runden Sache. Ob große Stars der Unterhaltung wie Jürgen von der Lippe, musikalische Größen wie die Amigos, Höhepunkte klassischer Musik, hervorragende Ballettdarbietungen oder große Festlichkeiten, die Stadthalle bietet verlässlich das passende Ambiente.

Die Stadthalle Osterode ist ein Publikumsmagnet. Es führt kaum ein Weg an ihr vorbei, wenn man nach kulturellen Leckerbissen Ausschau hält. Hier können Sie unvergessliche Momente erleben – garantiert!