Um bestmöglich für Ihre Sicherheit zu sorgen, wurden alle Veranstaltungen unseres Angebots mit den vorgeschriebenen Corona-Schutzmaßnahmen freigegeben. Dazu gehören beispielsweise Lüftungskonzepte oder Abstandsregelungen.
Journeye & Juke Box Hero - Livestream
Roßmarkt 19
63739
Aschaffenburg
Event organiser:
Colos-Saal (Berninger Musik und Gastronomie GmbH), Rossmarkt 19, 63739 Aschaffenburg, Deutschland
Information on concessions
ACHTUNG: Technisch bedingt sind Tickets nur bis 19 Uhr erhältlich!

Die Soli-Preise sind freiwillig, "Soli-Preis I" entspricht dem Preis des eigentlich geplanten Live-Konzerts. Diese höheren Preise sind für Fans gedacht, die der Band und dem Colos-Saal in der aktuellen Krisensituation eine zusätzliche Unterstützung zukommen lassen wollen.
Event info
A tribute to the music of Journey and Foreigner

Samstag, 5. Juni 2021
Stream-Start 19:30 Uhr
Showbeginn 20:00 Uhr

Der Stream ist nach Showende weitere 24h zum Ansehen verfügbar.
Location
Colos-Saal
Rossmarkt 19
63739 Aschaffenburg
Germany
Plan route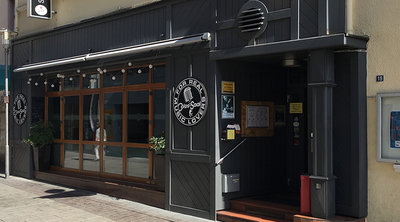 In einem unscheinbaren Gebäude in der Aschaffenburger Fußgängerzone befindet sich ein Laden, dessen Namen so einiges verspricht. "Colos-Saal" heißt er und tatsächlich – der Name ist Programm!
Vor fast 30 Jahren hat der Live-Club das Nacht- und Kulturleben der unterfränkischen Kleinstadt revolutioniert und ist seit jeher prägend. Bis zu 300 Veranstaltungen finden hier jährlich statt, womit das Team des Colos-Saals für rund ein Viertel des Veranstaltungsangebots der Stadt verantwortlich ist.

Künstler und Musiker sämtlicher Genres und Nationalitäten treten in den Räumlichkeiten des Clubs auf und machen ihn zu einer einzigartigen Location in der Region. Dies bestätigt auch die Auszeichnung mit dem "PRG Live Entertainment Award LEA 2013" wodurch der Colos-Saal offiziell zum besten Live-Club Deutschlands gewählt wurde.

Neben Konzerten finden auch immer wieder Kabarett-, und Theatervorstellungen sowie Parties oder auch Diskussionsrunden statt. Somit setzt sich das Publikum aus Menschen sämtlicher gesellschaftlicher Gruppierungen und Altersgruppen zusammen: Ob Punk- oder Raggea-Fan, Schüler oder Rentner, der Colos-Saal ist ein Ort für alle.