Johnny Armstrong - "Merciless (englisches Programm)"
Carambolage 2020 &nbsp
Am Karlstor 1
69117
Heidelberg
Event organiser: Kulturhaus Karlstorbahnhof e.V., Am Karlstor 1, 69117 Heidelberg, Deutschland
Restkarten an der Abendkasse
Event info
Johnny Armstrong is a quick-fire one-liner comedian from England's
deep, dark North.

He is known for his unique brand of black humor delivered with a
hefty portion of self-deprecation. A veteran of the London comedy
circuit, he has taken Germany by storm with TV appearances and
sold-out shows across the mainland. Many say that he has
internalized the Monty Pythons, but it looks more like he's eaten
them.
Videos
Location
Kulturhaus Karlstorbahnhof
Am Karlstor 1
69117 Heidelberg
Germany
Plan route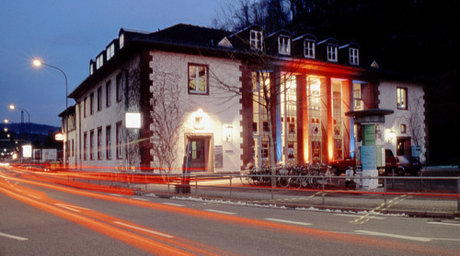 Der Karlstorbahnhof in Heidelberg gehört zu den wichtigsten Kulturangeboten der Region. Kino, Theater, Konzerte und Kleinkunst finden sich in den Räumlichkeiten des alten Bahnhofgebäudes ein. Und das Programm lockt jährlich 100.000 Besucher zum Kulturzentrum.

Erst 1995 gegründet, gehört das Kulturhaus Karlsbahnhof zu den jüngsten soziokulturellen Zentren Deutschlands. Und dennoch ist es national und international hoch angesehen. Grund hierfür ist das breitgefächerte Angebot. Verschiedene Vereine haben sich unter dem Dach des Bahnhofs zusammengefunden, um Kunst und Kultur aus aller Welt nach Heidelberg zu bringen. Und nun darf man sich seit geraumer Zeit auf Konzerte, DJ-Events und Kabarett-Kleinkunst-Comedy-Veranstaltungen freuen. Hinzu kommen Sprech- und Tanztheater, sowie ein Filmprogramm fernab des Hollywood-Mainstreams. Diese Mischung aller Kunstformen macht den Erfolg des Kulturzentrums aus.

Der Karlstorbahnhof Heidelberg besticht durch tolles Ambiente und auserlesenes Programm. Durch die vielen verschiedenen Veranstaltungen ist für jeden zu jederzeit etwas Passendes dabei. Kommen Sie vorbei und überzeugen Sie sich selbst!