John Lee Hooker Jr. & Band
Straße der Jugend 14 B
04860
Torgau
Event organiser: KAP Torgau e.V., Straße der Jugend 14 B, 04860 Torgau, Deutschland
Information on concessions
Einlass eine Stunde vor Veranstaltungsbeginn.
Event info
Mit John Lee Hooker Jr. kommt ein großartiger Top-Act des Chicago-Blues nach vier Jahren Europa-Abstinenz endlich wieder auf Tour auf den alten Kontinent. Noch dazu hat er ein neues Album im Gepäck. Der 64-jährige Sohn von Blues-Legende John Lee Hooker, selbst 2-fachnomminierter Grammy Award - Künstler (2004 + 2008) und Gewinner vieler weiterer Auszeichnungen (u.a. The California Music Award for Best Traditional Artist in 2004, The Esteemed W.C. Handy Award in 2004 und The Bay Area Music Chapter for Come Back Artist of the Year), kommt mit vielen neuen Songs im Gepäck, aber natürlich auch den altbekannten Hooker-Songs und Blues-Standards. Die 5-köpfige Band gehört derzeit zum Besten, was in Sachen Blues & Roots international geboten wird.
Location
KAP Torgau e.V. (Kulturbastion)
Straße der Jugend 14 B
04860 Torgau
Germany
Plan route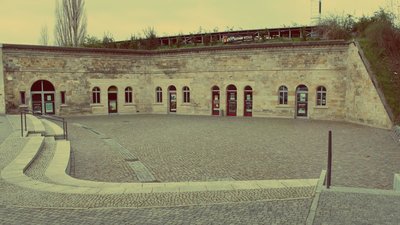 Hinter drei Buchstaben K, A und P verbirgt sich ein Allrounder unter den Veranstaltungslocations. Bei dem bunten Programm in der "Kulturbastion" kommen alle Altersgruppen auf ihre Kosten: Das Kulturelle Aktionsprojekt in Torgau bietet Kino, Theater oder Livemusik.

Bereits auf den ersten Blick erkennt man, dass die Kulturbastion über eine lange Geschichte verfügt. Der eindrucksvolle Backsteinbau war früher eine Flankenkasematte der Bastion Torgau, die Napoleon 1809 zur Sicherung der Elblinie erbaute. In den Jahrzehnten darauf wurde das Gebäude für verschiedene Zwecke genutzt, bis es 2005 schließlich als "Kulturbastion" neu eröffnet wurde. In den tonnenförmigen Räumen, die früher als Bunker dienten, finden heute vielfältige Veranstaltungen statt.

Mit dem Auto gelangen Sie über die B183 zur Straße der Jugend. Vor der Kulturbastion befinden sich Parkplätze in begrenzter Anzahl, weitere Parkflächen sind in unmittelbarer Nähe verfügbar. Besucher, die mit den öffentlichen Verkehrsmitteln anreisen, erreichen die Location über die Haltestelle "Straße der Jugend", die von verschiedenen Buslinien angesteuert wird. Der Bahnhof Torgau ist eine Viertelstunde entfernt.