Jive at Five - Jive at Five
Europaplatz 6
44575
Castrop-Rauxel
Event organiser: Forum Castrop-Rauxel Betriebsgesellschaft mbH, Europaplatz 6-10, 44575 Castrop-Rauxel, Deutschland
Event info
FRANK ROBERSCHEUTEN presents A HANDFUL OF KEYS
Stephanie Trick - Paolo Alderighi - Martin Breinschmid
Nico Gastreich - Moritz Gastreich

'JIVE at FIVE'
Die 41. Ausgabe der Konzertreihe wird dieses Mal vom niederländischen
Multiinstrumentalisten Frank Roberscheuten geleitet.
Frank gehört seit vielen Jahren zu den eurropäischen Top-Musikern des 'classic' Jazz, also der Zeit zwischen 1930 und dem Beginn der 40er Jahre.
Schwerpunkt sind zwei absolute Pioniere im vierhändigen Jazzpianospiel, einer nahezu unbekannten Disziplin im Jazz.
Der 1. Teil trägt den passenden Titel 'A Handful Of Keys'
Im 2. Teil stossen Bass und Schlagzeug hinzu und es gibt ein 'Tribute To Benny Goodman u. Lionel Hampton'.
Location
Stadthalle Castrop-Rauxel
Europaplatz 6-10
44575 Castrop-Rauxel
Germany
Plan route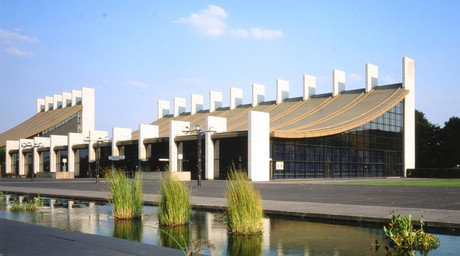 Am Europaplatz im Nordrhein-westfälischen Castrop- Rauxel befindet sich dieser einmalige Veranstaltungsort. Nur wenige Gehminuten vom Hauptbahnhof entfernt, steht die Stadthalle als kleines Wunderwerk der Technik. Mit verschiebbaren Hallenwänden und ein stufenweise versenkbarer Boden wird eine optimale, flexible Raumaufteilung/ - und Nutzung ermöglich. In einem atmosphärischen Rahmen können je nach Bestuhlung können max. 700 Personen Platz nehmen oder an Konzerten bis zu 1'000 Gäste feiern.

Neben Banketts- und Konzertveranstaltungen, wird die Stadthalle Castrop- Rauxel u.a. auch für Tagungen, Konferenzen, Ausstellungen, Hochzeiten und Kleinkunst wie Kabarett und Theater genutzt. Variabilität der Nutzung und die Besucherfreundlichen Gegebenheiten machen diesen Veranstaltungsort einzigartig.

Die zentrale Lage sowie das abwechslungsreiche Programmangebot der Stadthalle Castrop- Rauxels, lässt jede Veranstaltung unvergesslich werden.