Zu Ihrer Sicherheit und der weiteren Eindämmung des Coronavirus finden alle Veranstaltungen unter Einhaltung der aktuellen gesetzlichen Vorschriften statt: Die jeweiligen Veranstalterinnen und Veranstalter tragen Sorge, dass die Hygienemaßnahmen stets überwacht und eingehalten werden.
Weitere Details
Irish Heartbeat - Let´s celebrate St. Patrick´s day - Tour 2022
3 On The Bund, Briste, Conor Marky & Marty Barry &nbsp
Lentzstr. 1
27472
Cuxhaven
Tickets from €33.00 *
Concessions available
Event organiser:
Jazz und Folk Cuxhaven e.V., Beethovenallee 36, 27474 Cuxhaven, Deutschland
Information on concessions
Ermäßigt sind: Schüler, Studierende, Mitglieder des Vereins Jazz und Folk Cuxhaven e.V., sowie schwerbehinderte Personen.
Begleitpersonen von schwerbehinderten Menschen benötigen kein eigenes Ticket.
Event info
3 ON The Bund - das Programm des Quintetts ist ein Spaziergang durch die irische Tradition und ein Ausflug in die Weltmusik.
Briste - die drei jungen Frauen haben jede Menge spannende Ideen für ungewöhnliche Gesangsarrangements und pfeilschnelle Instrumentals. Ihre internationale Karriere beginnt in den USA. Es ist also kein Zufall, dass etwas Country und Americana in das Repertoire Eingang finden.
Mit Conor Markey & Marty Barry stehen zwei Meister auf der Bühne: Ob Gitarren, Bouzoukis oder Banjos – sie zupfen hoch virtuos an allen Saiten.

Erneut feiert sich die irische Musik bei diesem Festival mit einem abwechslungsreichen, zugleich traditionellen und innovativen Programm.
Videos
Directions
Hapag-Hallen Cuxhaven
Lentzstraße 1
27472 Cuxhaven
Germany
Plan route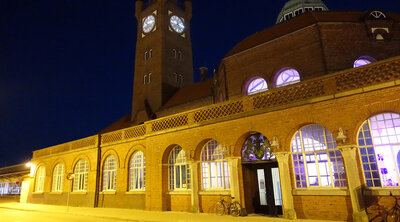 Hygienekonzept
Hygienevorschriften
Bitte informieren Sie sich Anfang März 2022 auf unserer Homepage über die dann geltenden Hygiene-Vorschriften.
Weitere Infos