Irish Heartbeat 2023
Lentzstraße 1
27472
Cuxhaven
Tickets from €36.00 *
Concession price available
Event organiser:
Jazz und Folk Cuxhaven e.V., Beethovenallee 36, 27474 Cuxhaven, Deutschland
Event info
Let's celebrate St. Patrick's Day 2023

Iren haben bekanntlich ein großes Herz. Ein Herz voll von Geselligkeit, Witz und Leidenschaft. All das sind ausgezeichnete Voraussetzungen, um ein Land zu sein, das immer wieder beeindruckende Geschichtenerzähler, Tänzer, Sänger und Musiker hervorbringt. Der Herzschlag der irischen Nation erhöht sich immer deutlich rund um die tollen Tage, wenn der St. Patrick's Day gefeiert wird. Am irischen Nationalfeiertag hat irische Kultur Hochkonjunktur. Insbesondere Irish Folk lässt die Herzen der Iren höher schlagen. Aber nicht nur die der Iren…

"Irish Heartbeat" ist eine Tour, die die Hand am Puls der irischen Musikszene hat. Es bringt seit 34 Jahren sowohl ihre traditionellen als auch innovativen Elemente auf Tour. Insbesondere rund um den St. Patrick's Day steigt das Zusammengehörigkeitsgefühl der Iren und ihrer Freunde – egal wo sie sein mögen – ganz besonders stark an. Man spürt die unsichtbaren Bande, wie sie nur Kultur über den Erdball spannen kann. Zu einem authentischen St. Patrick's Day Feeling gehört aber nicht nur tolle Musik, sondern auch eine typisch dekorierte Halle, irische Speisen und Getränke.

GRÁINNE HOLLAND TRIO
Ireland's new Gaelic voice

FOURTH MOON
Expect the unexpected Celtic!

THE OUTSIDE TRACK
Tradition with new wings
Directions
Hapag-Hallen Cuxhaven
Lentzstraße 1
27472 Cuxhaven
Germany
Plan route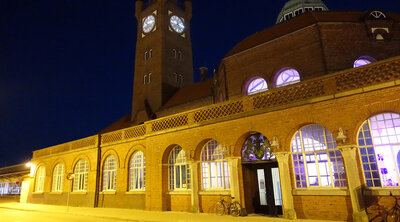 Terms and conditions
Corona:
Bitte informieren Sie sich vor unserer Veranstaltung auf unserer Homepage www.jazzundfolkcuxhaven.de über die dann geltenden Hygiene-Vorschriften.