Interactive Storyacting
Galli Ensemble Frankfurt &nbsp
Hamburger Allee 45
60486
Frankfurt
Event organiser: Galli Theater Frankfurt, Hamburger Allee 45, 60486 Frankfurt am Main, Deutschland
Information on concessions
Ermäßigungsberechtigt sind:
Schüler, Studenten und Arbeitslose.
Ermäßigte Karten sind nur bei ausgewählten Veranstaltungen verfügbar.

Liebe Rollstuhlfahrer,
bitte wenden Sie sich im Vorfeld direkt an die Veranstalterin Karola Diestel
Tel: 069 970 97153, wir helfen gerne beim Überwinden der 5 Treppenstufen in unser wunderschönes Theater.
Event info
Interactive Story Acting
Interactive Story Acting is a special form of theater where an experienced actor acts out a fairy tale by slipping into the roles of the various characters. The children participate in the experience of creating the play by sharing their opinions, interacting with the storyteller, and even jumping up on stage and performing different roles such as the Seven Dwarfs or different animals in the forest. It is a wonderful theatrical form where children actively participate in creating a thrilling theater experience.
Location
Galli Theater Frankfurt
Hamburger Allee 45
60486 Frankfurt
Germany
Plan route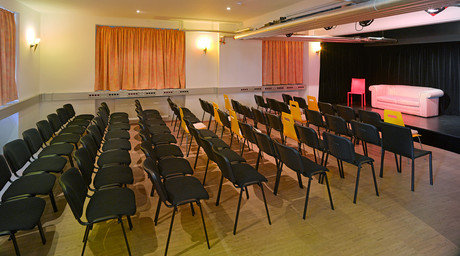 In Frankfurt befindet sich eines von vielen erfolgreichen Galli-Theatern, die es mittlerweile in ganz Deutschland gibt. Einst von dem ehemaligen Clown Johannes Galli gegründet, herrscht hier das Motto: "Theater wird Ereignis". Um dieses Motto zu verwirklichen, werden nicht nur Stücke aus der Feder des Gründers wie beispielsweise "68er Spätlese" aufgeführt, sondern es wird auch Wert auf Interaktion und aktive Teilnahme des Publikums gelegt.

Johannes Galli hat eine nach ihm benannte Methode entwickelt, bei der spontanes Spiel als Basis für Konfliktbewältigung dient. Aus diesem Grund werden in den Galli Theatern regelmäßig Workshops für Jung und Alt angeboten, bei denen die Theaterbühne als Ort genutzt wird, um für die Bühne des Lebens zu lernen. Die Teilnehmer können so mehr über Körpersprache, Kommunikation sowie Bewegung und Tanz erfahren. Auch das Präventionstheater spielt eine wichtige Rolle. Im Auftrag von unterschiedlichen Einrichtungen wie Kindergärten oder Schulen, finden hier Aufführungen mit kritischen Inhalten, beispielsweise Drogen, Gewalt oder Integration, statt.

Natürlich kann man auch einfach nur das abwechslungsreiche Programm genießen: Ein ausgewogener Abendspielplan bietet Möglichkeiten für unterhaltsame Theatererlebnisse für die ganze Familie.