Zu Ihrer Sicherheit und der weiteren Eindämmung des Coronavirus finden alle Veranstaltungen unter Einhaltung der aktuellen gesetzlichen Vorschriften statt: Die jeweiligen Veranstalterinnen und Veranstalter tragen Sorge, dass die Hygienemaßnahmen stets überwacht und eingehalten werden.
Ian Fisher
Ian Fisher, Support: Mat Austin &nbsp
Holzstraße 28
80469
München
Event organiser:
Missmilla GmbH, Holzstraße 28, 80469 München, Deutschland
Event info
Ian Fisher is a modern songwriter who was raised in Ste. Genevieve, Missouri, and currently lives in Vienna, Austria. He has written over a one and half thousand songs and been on tour for the last decade. Known for their powerful live performances, he will perform with his band (Andreas Laudwein / Bass, Camillo Jenny / Drums, Ryan Thomas Carpenter / Keys , & Rich Case / Guitar) playing new songs from their upcoming album and their recent record, "Idle Hands", which Rolling Stone Magazine best described as "Half Americana & Half Abbey Road-Worthy Pop". Fisher will also perform a song or two from the popular play, "Was Ihr Wollt", which he starred in at the Residenz Theater. Local Uk-transplant and bluesy soulster, Matthew Austin, will open the evening.
Ian Fisher

https://www.youtube.com/c/IanFisherSongs

http://ianfishersongs.com
https://www.facebook.com/ianfishersongs
https://www.instagram.com/ianfishersongs/
http://bit.do/spotifyif
Event location
Milla Club
Holzstraße 28
80469 München
Germany
Plan route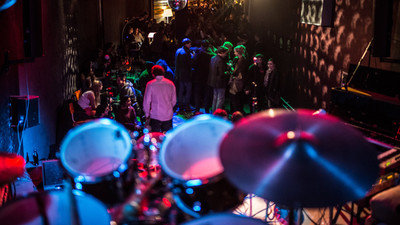 Klein hat sie angefangen, die Milla in München. Mittlerweile stehen aber so gut wie jeden Abend Künstler der verschiedensten Genres auf der Bühne des kleinen Lokals, gelegen im angesagtesten Viertel Münchens, das Glockenbachviertel. Das Ambiente des Live-Clubs ist einzigartig. Ein langer schmaler Raum (früher lief hier ein Bach entlang) ist ausgestattet mit alten Polstersofas und rustikalen Holzbänken und das Bier könnte auch mal kippen, denn alles ist leicht schräg.

Schräg. Das beschreibt die Milla eigentlich perfekt und das ist, was die Gäste an dieser Lokalität so lieben. Auf die Idee einer solchen Bar kommt auch nicht irgendwer. Nein, Gerd Baumann (Musiker und Komponist), Peter Brugger (Sportfreunde Stiller) und Till Hofmann (Betreiber des Münchner Lustspielhauses) sind die Initiatoren der Milla. Bei so viel Prominenz kann es dann schon mal vorkommen, dass die Schöpfer selber mal auf der Bühne stehen und ein bisschen rum experimentieren.

Die Milla hat Charakter und ist so ganz anders als die anderen Bars und Clubs in München. Und genau das macht sie so besonders und ist auf jeden Fall einen Besuch wert. Sie erreichen die Milla am besten mit den Öffentlichen Verkehrsmitteln. Von der Tram- und U-Bahnhaltestelle "Sendlinger Tor" bzw. "Fraunhoferstraße" sind es nur wenige Gehminuten in die Holzstraße.