hr-Sinfoniekonzert | Pini di Roma
Opernplatz 1
60313
Frankfurt am Main
Tickets from €17.00
Concessions available
Event organiser: Hessischer Rundfunk, Bertramstr. 8, 60320 Frankfurt am Main, Deutschland
Event info
PINI DI ROMA
Artist in Residence

IVETA APKALNA | Orgel
JURAJ VALCˇ UHA | Dirigent

Giacomo Puccini | Preludio sinfonico
Joseph Jongen | Symphonie Concertante für Orgel und Orchester
Ottorino Respighi | Fontane di Roma
Ottorino Respighi | Pini di Roma

Er scheute sich in seiner »Römischen Trilogie«
nicht, die ewige Stadt in nie dagewesenem
Naturalismus musikalisch abzubilden: Ottorino
Respighi komponierte um das Jahr 1920 klingende
Postkarten mit den schönsten Motiven
Roms. Aus der gleichen Zeit stammt auch das
berühmteste Werk des Belgiers Joseph Jongen:
Seine »Symphonie Concertante für Orgel und
Orchester« stellt selbst die wirkungsmächtige
Orgelsinfonie des Camille Saint-Saëns in
Sachen Ausdruckskraft und Temperament in
den Schatten.

___________

In his »Roman Trilogy«, he did not shy away from
depicting the Eternal City with an unprecedented
naturalism: Ottorino Respighi composed this
musical postcard with the most beautiful motifs
of Rome around 1920. The most famous work of
the Belgian composer Joseph Jongen dates from
the same period: His »Symphony Concertante for
organ and orchestra« even overshadows the
powerful Organ Symphony by Camille Saint-Saëns
when it comes to expression and temperament.
Location
Alte Oper
Opernplatz 1
60313 Frankfurt am Main
Germany
Plan route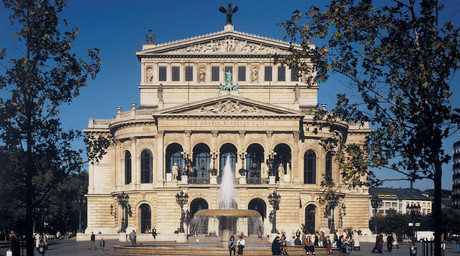 Mitten in der Frankfurter Innenstadt steht die "Alte Oper Frankfurt". Sie lockt mit Konzerten und Veranstaltungen der Spitzenklasse. Künstler wie Martha Argerich, Alfred Brendel oder Hélène Grimaud, sowie die "Berliner Philharmoniker" sind hier schon aufgetreten.

Seit 1880 bietet die "Alte Oper Frankfurt" Raum für Musik und Feste. Daran konnten auch "Dynamit-Rudi´s" Pläne, das Gebäude in die Luft zu sprengen, nichts ändern. Und seit der Eröffnung zieht die Oper prominente Künstler und Gäste an. Kaiser Wilhelm der 1. kam zur Eröffnung zu Besuch und Carl Orffs "Carmina Burana" wurde hier 1937 uraufgeführt. Und so hat sich zwischen den Bürotürmen ein wichtiges Stück Stadtgeschichte gehalten. Dem Schriftzug über dem Eingang "Dem Wahren, Schönen, Guten" entsprechend, ist die "Alte Oper Frankfurt" ein Garant für ein tolles Programm und unvergessliche Konzertabende. Der große Saal bietet mit 2500 Sitzplätzen genug Platz für große Konzerte, der "Mozartsaal" schafft mit 700 Plätzen eine intimere Atmosphäre.

Die "Alte Oper Frankfurt" ist eine feste Kulturinstitution. Sie genießt weit über das Rhein-Main-Gebiet einen sehr guten Ruf. Hier wird Kunst perfektioniert.