hr-Sinfoniekonzert | Pelleas und Melisande
Opernplatz 1
60313
Frankfurt am Main
Tickets from €17.00
Concessions available
Event organiser: Hessischer Rundfunk, Bertramstr. 8, 60320 Frankfurt am Main, Deutschland
Event info
PELLEAS UND MELISANDE

EMANUEL AX | Klavier
DAVID AFKHAM | Dirigent

Alban Berg | Drei Orchesterstücke op. 6
Wolfgang Amadeus Mozart | Klavierkonzert d-Moll KV 466
Arnold Schönberg | Pelleas und Melisande

Zweite Wiener Schule begegnet der Ersten:
»Pelleas und Melisande«, die mächtig ausufernde
Tondichtung des noch deutlich spätromantisch
befeuerten Schönbergs mit seiner riesenhaften
Orchesterbesetzung trifft auf Mozarts
solitäres Klavierkonzert KV 466 im düsteren
d-Moll, das so gar nichts Galant-Spielerisches
mehr hat. Es ist ein Programm der harten
Schnitte und Kontraste mit Musik, die aus einer
Zeit des Umbruchs stammt. Vorgestellt wird
sie vom Chefdirigenten des Orquesta Nacional
de España und einem der großen Pianisten
unserer Zeit.
___________

The Second Viennese School meets the First:
»Pelleas and Melisande«, the powerful and
exuberant symphonic poem by Schoenberg, still
clearly fired by the late Romantic Era, together
with his huge orchestra encounters Mozart's Piano
Concerto K. 466 in sombre D minor, which has
nothing remotely gallant or playful left in it. It is
a programme full of deep cuts and contrasts with
music composed in a time of change. It is presented
by the principal conductor of the Orquesta
Nacional de España and one of the greatest
pianists of our time.
Location
Alte Oper
Opernplatz 1
60313 Frankfurt am Main
Germany
Plan route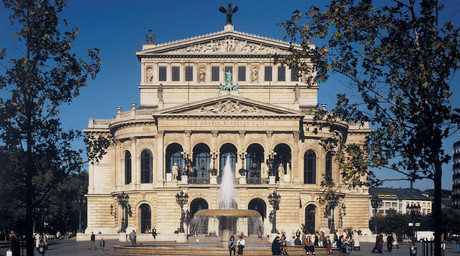 Mitten in der Frankfurter Innenstadt steht die "Alte Oper Frankfurt". Sie lockt mit Konzerten und Veranstaltungen der Spitzenklasse. Künstler wie Martha Argerich, Alfred Brendel oder Hélène Grimaud, sowie die "Berliner Philharmoniker" sind hier schon aufgetreten.

Seit 1880 bietet die "Alte Oper Frankfurt" Raum für Musik und Feste. Daran konnten auch "Dynamit-Rudi´s" Pläne, das Gebäude in die Luft zu sprengen, nichts ändern. Und seit der Eröffnung zieht die Oper prominente Künstler und Gäste an. Kaiser Wilhelm der 1. kam zur Eröffnung zu Besuch und Carl Orffs "Carmina Burana" wurde hier 1937 uraufgeführt. Und so hat sich zwischen den Bürotürmen ein wichtiges Stück Stadtgeschichte gehalten. Dem Schriftzug über dem Eingang "Dem Wahren, Schönen, Guten" entsprechend, ist die "Alte Oper Frankfurt" ein Garant für ein tolles Programm und unvergessliche Konzertabende. Der große Saal bietet mit 2500 Sitzplätzen genug Platz für große Konzerte, der "Mozartsaal" schafft mit 700 Plätzen eine intimere Atmosphäre.

Die "Alte Oper Frankfurt" ist eine feste Kulturinstitution. Sie genießt weit über das Rhein-Main-Gebiet einen sehr guten Ruf. Hier wird Kunst perfektioniert.