hr-Sinfoniekonzert | Mahler 7
Opernplatz 1
60313
Frankfurt am Main
Tickets from €17.00
Concessions available
Event organiser: Hessischer Rundfunk, Bertramstr. 8, 60320 Frankfurt am Main, Deutschland
Event info
MAHLER 7

ANDRÉS OROZCO-ESTRADA | Dirigent

Gustav Mahler | 7. Sinfonie

Als »Nachtmusik« bezeichnete Gustav Mahler
zwei Sätze seiner 7. Sinfonie, und dem nächtlichen
Schatten und der weltfernen Einsamkeit
gehört die ganze Partitur, die so ungewöhnlich
besetzt ist mit Gitarre, Mandoline und Herdenglocken.
Selbst das festlich-satte Finale, das
so irritierend monumental auftrumpft, blickt
nur in Leere und Abgrund. Diese Sinfonie Nummer
7 ist das große Fragezeichen unter den
Mahler-Sinfonien, die in Andrés Orozco-Estrada
einen von Publikum und Presse hoch geschätzten
Interpreten finden.

___________

Gustav Mahler described two movements of his
7th symphony as »Night music«, and the shadows
of the night and faraway loneliness are where the
entire score belongs with its unusual instrumentation
of guitar, mandolin and cowbells. Even the
celebratory and opulent finale, so bewilderingly
monumental, only gazes into emptiness and the
abyss. This Symphony No. 7 is the most puzzling
of Mahler's symphonies. In Andrés Orozco-
Estrada it has found a performer who is highly
acclaimed by the public and media alike.
Location
Alte Oper
Opernplatz 1
60313 Frankfurt am Main
Germany
Plan route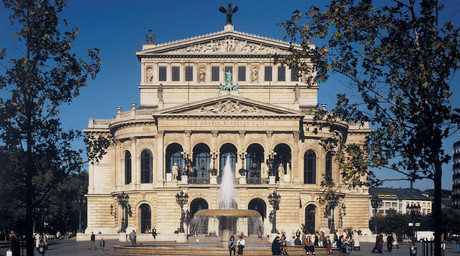 Mitten in der Frankfurter Innenstadt steht die "Alte Oper Frankfurt". Sie lockt mit Konzerten und Veranstaltungen der Spitzenklasse. Künstler wie Martha Argerich, Alfred Brendel oder Hélène Grimaud, sowie die "Berliner Philharmoniker" sind hier schon aufgetreten.

Seit 1880 bietet die "Alte Oper Frankfurt" Raum für Musik und Feste. Daran konnten auch "Dynamit-Rudi´s" Pläne, das Gebäude in die Luft zu sprengen, nichts ändern. Und seit der Eröffnung zieht die Oper prominente Künstler und Gäste an. Kaiser Wilhelm der 1. kam zur Eröffnung zu Besuch und Carl Orffs "Carmina Burana" wurde hier 1937 uraufgeführt. Und so hat sich zwischen den Bürotürmen ein wichtiges Stück Stadtgeschichte gehalten. Dem Schriftzug über dem Eingang "Dem Wahren, Schönen, Guten" entsprechend, ist die "Alte Oper Frankfurt" ein Garant für ein tolles Programm und unvergessliche Konzertabende. Der große Saal bietet mit 2500 Sitzplätzen genug Platz für große Konzerte, der "Mozartsaal" schafft mit 700 Plätzen eine intimere Atmosphäre.

Die "Alte Oper Frankfurt" ist eine feste Kulturinstitution. Sie genießt weit über das Rhein-Main-Gebiet einen sehr guten Ruf. Hier wird Kunst perfektioniert.