hr-Sinfoniekonzert | Haydn à la française
Opernplatz 1
60313
Frankfurt am Main
Event organiser: Hessischer Rundfunk, Bertramstr. 8, 60320 Frankfurt am Main, Deutschland
Veranstaltung ist abgesagt!
Event info
HAYDN À LA FRANÇAISE
Ballets Russes | Pariser Sinfonien

BAIBA SKRIDE | Violine
ANDRÉS OROZCO-ESTRADA | Dirigent

Joseph Haydn | Sinfonie Nr. 86
Sofia Gubaidulina | Dialog: Ich und Du – 3. Violinkonzert
Joseph Haydn | Sinfonie Nr. 85 (»La Reine / Die Königin«)
Igor Strawinsky | Pulcinella – Suite

Von geistreichen Anspielungen, Zitaten und
humorvollen Generalpausen durchzogen sind
die Pariser Sinfonien Joseph Haydns, die ein
Zentrum bilden im aktuellen Saison-Programm.
Einen zweiten Schwerpunkt setzen die »Ballets
Russes« und Igor Strawinsky, wobei die mit
den Stilen des 18. Jahrhunderts spielende
»Pulcinella«-Suite die neoklassizistische Phase
des Komponisten einläutete. Und auch Sofia
Gubaidulina blickt zurück, wenn auch nur auf
das Jahr 1923, in dem der Philosoph Martin
Buber seine Schrift »Ich und Du« veröffentlichte.
Sofia Gubaidulina borgte sich den Titel aus
für ihr 3. Violinkonzert, das erst im April 2018
in Nowosibirsk uraufgeführt worden ist.
___________

Joseph Haydn's Paris Symphonies, which are a
centrepiece of this season's programme, are full
of witty allusions, quotes and humorous general
pauses. The »Ballets Russes« and Igor Stravinsky
form a second focus, although the »Pulcinella«
suite, which plays with the styles of the 18th century,
marks the beginning of the composer's
neoclassical phase. Sofia Gubaidulina looks back,
too, albeit only to the year 1923 when the philosopher
Martin Buber published his work »I and
Thou«. Sofia Gubaidulina borrowed the title for
her 3rd Violin Concerto which was premiered as
recently as April 2018 in Novosibirsk.
Location
Alte Oper
Opernplatz 1
60313 Frankfurt am Main
Germany
Plan route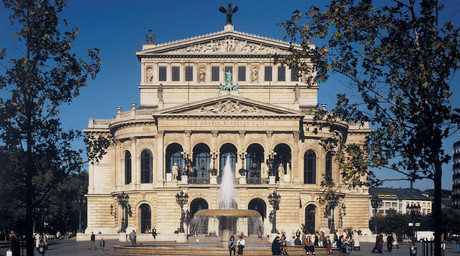 Mitten in der Frankfurter Innenstadt steht die "Alte Oper Frankfurt". Sie lockt mit Konzerten und Veranstaltungen der Spitzenklasse. Künstler wie Martha Argerich, Alfred Brendel oder Hélène Grimaud, sowie die "Berliner Philharmoniker" sind hier schon aufgetreten.

Seit 1880 bietet die "Alte Oper Frankfurt" Raum für Musik und Feste. Daran konnten auch "Dynamit-Rudi´s" Pläne, das Gebäude in die Luft zu sprengen, nichts ändern. Und seit der Eröffnung zieht die Oper prominente Künstler und Gäste an. Kaiser Wilhelm der 1. kam zur Eröffnung zu Besuch und Carl Orffs "Carmina Burana" wurde hier 1937 uraufgeführt. Und so hat sich zwischen den Bürotürmen ein wichtiges Stück Stadtgeschichte gehalten. Dem Schriftzug über dem Eingang "Dem Wahren, Schönen, Guten" entsprechend, ist die "Alte Oper Frankfurt" ein Garant für ein tolles Programm und unvergessliche Konzertabende. Der große Saal bietet mit 2500 Sitzplätzen genug Platz für große Konzerte, der "Mozartsaal" schafft mit 700 Plätzen eine intimere Atmosphäre.

Die "Alte Oper Frankfurt" ist eine feste Kulturinstitution. Sie genießt weit über das Rhein-Main-Gebiet einen sehr guten Ruf. Hier wird Kunst perfektioniert.