hr-Sinfoniekonzert | Amériques
Lucas & Arthur Jussen, Alain Altinoglu, hr-Sinfonieorchester &nbsp
Opernplatz 1
60313
Frankfurt am Main
Tickets from €19.00 *
Concession price available
Event organiser:
Hessischer Rundfunk, Bertramstr. 8, 60320 Frankfurt am Main, Deutschland
Event info
Amériques

Lucas & Arthur Jussen | Klavier
Alain Altinoglu | Dirigent

Camille Pépin | Les Eaux célestes (Auftragswerk des hr – Uraufführung)
Francis Poulenc | Konzert für zwei Klaviere
Claude Debussy | Prélude à l´après-midi d´un faune
Edgard Varèse | Amériques


»Typisch französische Flamboyance, aber immer chic!«, so beschreiben die Brüder Lucas und Arthur Jussen das Konzert für zwei Klaviere von Francis Poulenc. Ganz französisch-farbenreich ist dieses Programm, in dem auch Amerika zum Klingen kommen wird – ausgehört natürlich mit französischen Ohren. »Amériques«, dieses solitäre Großwerk für ein Riesenorchester, komponierte Edgard Varèse in den 1920er Jahren, zum ersten Mal in der Literatur wird hier eine Sirene eingesetzt. Denn Varèse wollte das in Töne fassen, was er als Kind sich unter Amerika vorgestellt hatte. Und dieses Amerika klingt atemberaubend, überbordend, die Sinne erregend. Wobei einen Erregungszustand ja bereits Ende des 19. Jahrhunderts Claude Debussy in unnachahmlicher Weise auskomponiert hat, in seinem »Präludium auf den Nachmittag eines Fauns«, jenem schwül-luziden Meisterwerk, das eine Zeitenwende in der Musik eingeläutet hat.

Konzerteinführung: 19 Uhr
Konzertdauer: ca. 110 Minuten
___________

»Typical French flamboyance, but always chic!« is how brothers Lucas and Arthur Jussen describe Francis Poulenc´s Concerto for Two Pianos. Quite French-colorful is this program, in which America will also sound – heard out, of course, with French ears. »Amériques«, this solitary large-scale work for a giant orchestra, was composed by Edgard Varèse in the 1920s, the first time in literature that a siren is used here. For Varèse wanted to capture in sound what he had imagined America to be as a child. And this America sounds breathtaking, exuberant, exciting the senses. Claude Debussy had already composed a state of excitement in an inimitable way at the end of the 19th century, in his »Prelude to the Afternoon of a Faun,« that sultry, lucid masterpiece that heralded a new era in music.

Concert introduction: 7 pm
Concert duration: about 110 minutes
Event location
Alte Oper
Opernplatz 1
60313 Frankfurt am Main
Germany
Plan route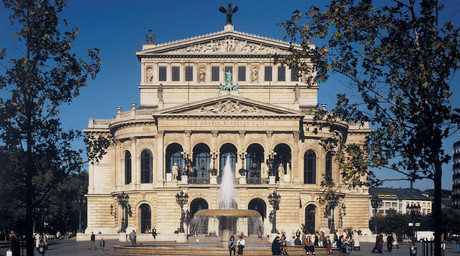 Mitten in der Frankfurter Innenstadt steht die "Alte Oper Frankfurt". Sie lockt mit Konzerten und Veranstaltungen der Spitzenklasse. Künstler wie Martha Argerich, Alfred Brendel oder Hélène Grimaud, sowie die "Berliner Philharmoniker" sind hier schon aufgetreten.

Seit 1880 bietet die "Alte Oper Frankfurt" Raum für Musik und Feste. Daran konnten auch "Dynamit-Rudi´s" Pläne, das Gebäude in die Luft zu sprengen, nichts ändern. Und seit der Eröffnung zieht die Oper prominente Künstler und Gäste an. Kaiser Wilhelm der 1. kam zur Eröffnung zu Besuch und Carl Orffs "Carmina Burana" wurde hier 1937 uraufgeführt. Und so hat sich zwischen den Bürotürmen ein wichtiges Stück Stadtgeschichte gehalten. Dem Schriftzug über dem Eingang "Dem Wahren, Schönen, Guten" entsprechend, ist die "Alte Oper Frankfurt" ein Garant für ein tolles Programm und unvergessliche Konzertabende. Der große Saal bietet mit 2500 Sitzplätzen genug Platz für große Konzerte, der "Mozartsaal" schafft mit 700 Plätzen eine intimere Atmosphäre.

Die "Alte Oper Frankfurt" ist eine feste Kulturinstitution. Sie genießt weit über das Rhein-Main-Gebiet einen sehr guten Ruf. Hier wird Kunst perfektioniert.