Zu Ihrer Sicherheit und der weiteren Eindämmung des Coronavirus finden alle Veranstaltungen unter Einhaltung der aktuellen gesetzlichen Vorschriften statt: Die jeweiligen Veranstalterinnen und Veranstalter tragen Sorge, dass die Hygienemaßnahmen stets überwacht und eingehalten werden.
hr-Sinfoniekonzert | 1001 Nacht
Alain Altinoglu, Evgeny Kissin, hr-Sinfonieorchester &nbsp
Opernplatz 1
60313
Frankfurt am Main
Tickets from €19.00 *
Concession price available
Event organiser:
Hessischer Rundfunk, Bertramstr. 8, 60320 Frankfurt am Main, Deutschland
Event info
1001 Nacht

Evgeny Kissin | Klavier
Alain Altinoglu | Dirigent

Sergej Rachmaninow | 3. Klavierkonzert
Nikolaj Rimskij-Korsakow | Scheherazade


Rauschhaft geht´s los mit Star-Pianist Evgeny Kissin, der zum Saisonauftakt das gewaltigste Klavierkonzert der Musikgeschichte präsentieren wird, den Rekordhalter in Sachen Notendichte und auch Schwierigkeit. Und märchenhaft geht es dann weiter: mit klangsinnlicher Romantik aus »Tausendundeiner Nacht«. Seit seinem sensationellen Debüt als Zwölfjähriger 1984 in Moskau hat sich Evgeny Kissin zu einem Pianisten der Extraklasse entwickelt, wobei er sich viele Jahre rar gemacht hat auf den deutschen Konzertpodien. Mit dem 3. Klavierkonzert von Sergej Rachmaninow nimmt er sich jetzt ein wahrhaft monumentales Werk vor: Es ist der ultimative Maßstab nicht nur für die technische Versiertheit eines jeden Interpreten. Nicht minder opulent und klangfarbig geht es mit Chefdirigent Alain Altinoglu und dem hr-Sinfonieorchester Frankfurt dann in Nikolaj Rimskij-Korsakows »Scheherazade«-Suite zu, die einen deutlichen Hauch orientalische Exotik in die russische Romantik überführt. In einem betörenden Klangspiel werden hier jene Märchen nacherzählt, mit denen die junge Scheherazade das tyrannische Wesen des Sultans letztlich bricht.

Konzerteinführung: 18 Uhr
Konzertdauer: ca. 120 Minuten
___________

Star pianist Evgeny Kissin will kick off the season with the most powerful piano concerto in music history, the record holder in terms of note density and difficulty. And it continues like a fairy tale: with sonorous romanticism from the »Thousand and One Nights«. Since his sensational debut as a twelve-year-old in Moscow in 1984, Evgeny Kissin has developed into a pianist in a class of his own, although he has made himself scarce on the German concert podiums for many years. With Sergei Rachmaninoff´s Piano Concerto No. 3, he now takes on a truly monumental work: It is the ultimate benchmark not only for the technical proficiency of any interpreter. No less opulent and colorful in sound, Music Director Alain Altinoglu and the Frankfurt Radio Symphony then take on Nikolai Rimsky-Korsakov´s »Scheherazade« Suite, which brings a distinct touch of oriental exoticism to Russian Romanticism. In a beguiling play of sound, those fairy tales are retold here with which the young Scheherazade ultimately breaks the tyrannical nature of the sultan.

Concert introduction: 6 pm
Concert duration: about 120 minutes
Event location
Alte Oper
Opernplatz 1
60313 Frankfurt am Main
Germany
Plan route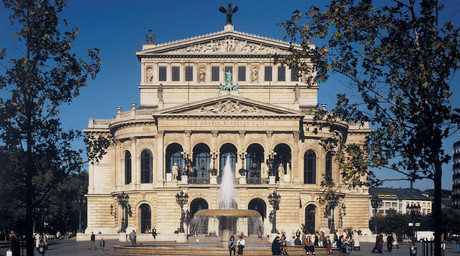 Mitten in der Frankfurter Innenstadt steht die "Alte Oper Frankfurt". Sie lockt mit Konzerten und Veranstaltungen der Spitzenklasse. Künstler wie Martha Argerich, Alfred Brendel oder Hélène Grimaud, sowie die "Berliner Philharmoniker" sind hier schon aufgetreten.

Seit 1880 bietet die "Alte Oper Frankfurt" Raum für Musik und Feste. Daran konnten auch "Dynamit-Rudi´s" Pläne, das Gebäude in die Luft zu sprengen, nichts ändern. Und seit der Eröffnung zieht die Oper prominente Künstler und Gäste an. Kaiser Wilhelm der 1. kam zur Eröffnung zu Besuch und Carl Orffs "Carmina Burana" wurde hier 1937 uraufgeführt. Und so hat sich zwischen den Bürotürmen ein wichtiges Stück Stadtgeschichte gehalten. Dem Schriftzug über dem Eingang "Dem Wahren, Schönen, Guten" entsprechend, ist die "Alte Oper Frankfurt" ein Garant für ein tolles Programm und unvergessliche Konzertabende. Der große Saal bietet mit 2500 Sitzplätzen genug Platz für große Konzerte, der "Mozartsaal" schafft mit 700 Plätzen eine intimere Atmosphäre.

Die "Alte Oper Frankfurt" ist eine feste Kulturinstitution. Sie genießt weit über das Rhein-Main-Gebiet einen sehr guten Ruf. Hier wird Kunst perfektioniert.