Hildegard Musical "Ich sah die Welt als EINS" - Übernachtung im NH Hotel Bingen inkl. Frühstücksbuffet
Rochusberg
55411
Bingen am Rhein
Event organiser: Tourist-Information Bingen, Rheinkai 21, 55411 Bingen am Rhein, Deutschland
Event info
Das Musical beschreibt den bewegten Lebensweg der Visionärin, Theologin, Komponistin und Äbtissin Hildegard von Bingen. In emotionalen Songs und ergreifenden Bildern zeigt dieses Mixed-Media-Musical den Lebensweg dieser beeindruckenden Persönlichkeit des Hochmittelalters. Wir begleiten Hildegard von ihrem Eintritt ins Kloster Disibodenberg, über die Klostergründung in Bingen bis hin zu ihrem Tod im Jahre 1179.
Live Gesang: Menna Mulugeta, Annette Artus und Josch Röger
Der Autor und Komponist, Martin Rector, sagt: "Ein wichtiges Ziel, welches ich mit Musical verfolge, ist zu zeigen, dass die große Visionärin und Kirchenlehrerin auch für den modernen Menschen relevant ist.Wenn man bereit ist, sich auf den Menschen
Hildegard einzulassen, erschließen sich durch ihre Musik und ihre Schriften eine Bedeutung, die am ehesten mit den Begriffen Spiritualität und Mystizismus zu umschreiben sind. Für Hildegard gab es kein Getrenntsein von Gott und Schöpfung. Kein "hier unten auf der Erde" und "dort oben im Himmel". Für sie ist Gott ständig in seiner Schöpfung präsent, die Schöpfung ist durchdrungen von Gott. Dafür steht der Titel des Musicals "Ich sah die Welt als EINS".

"I saw the world as ONE".
The musical describes the eventful life of the visionary, theologian, composer and abbess Hildegard of Bingen. In emotional songs and moving images, this Mixed-Media-Musical desribes the path of life of this impressive personality of the High Middle Ages. We accompany Hildegard from her entrance into the Disibodenberg Monastery, from the foundation of the monastery in Bingen to her death in 1179.
Live singers: Menna Mulugeta, Annette Artus, Josch Röger and a mixed choir.
The author and composer, Martin Rector, says:
"An important goal, which I pursue with Musical, is to show that the great visionary and church teacher also for the modern
is relevant to the human condition. When one is ready to focus on Hildegard as a human, her music and scriptures reveal a meaning that is most closely associated with the terms of spirituality and mysticism. For Hildegard there was no separation from God and creation. No "down here on earth" and "up there in heaven." For she, God is constantly present in His creation. Creation is permeated by God. This is what the title "I saw the world as one." stands for.
Location
Hildegard Forum der Kreuzschwestern
Rochusberg
55411 Bingen am Rhein
Germany
Plan route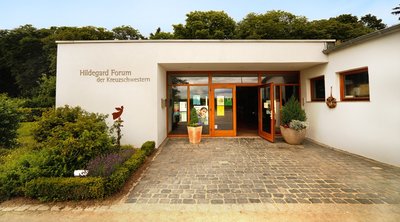 Das Hildegard-Forum der Kreuzschwestern in Bingen am Rhein versteht sich als Begegnungsstätte für Menschen jedweden Alters. Hier können Besucher in entspannter Atmosphäre entspannen, feiern und genießen.

Schon seit 1920 ist der Rochusberg die Heimat der Schwesternschaft, welche sich der Lebenslehre der heiligen Hildegard von Bingen verschrieben hat. Das Forum kam später dazu und wurde ebenso wie das angeschlossene Restaurant offen und einladend gestaltet. Der idyllische Kräutergarten ist nach mittelalterlichem Vorbild angelegt worden und lädt nach einem Besuch im Forum zu einem Spaziergang ein. Hier finden sich nicht nur bekannte heimische Kräuter, sondern auch mediterrane Exoten wie Öl- und Feigenbäume. Im Laden des Forums können Besucher regionale Produkte kaufen oder in der reichhaltigen Literatur stöbern.

Das Hildegard-Forum liegt auf dem Rochusberg in Bingen und ist etwa zehn Gehminuten vom Bahnhof entfernt. Für Besucher, die mit dem Auto anreisen, stehen vor Ort ausreichend Parkmöglichkeiten zur Verfügung.