Highlight - Tour (englisch) - Highlight-Tour (english)
Olympischer Platz 3
14053
Berlin
Tickets from €12.00
Concessions available
Event organiser: Runze & Casper Werbeagentur GmbH, Linienstraße 214, 10119 Berlin, Deutschland
Information on concessions
Reduced: pupils, students, senior citizens, (valid identification required) and for groups of ten or more people.
Family Card valid for max. 2 adults and 3 children of up to 16 years.
(Please choose 3, 4 or 5 people - rate)
Free entry for children under 6 years.
Event info
A professional guide takes you on a 60- to 75-minute tour of the stadium, to areas not otherwise open to the public. Visit the venue of the 2006 FIFA World Cuptm , the 12th World Championships in Athletics berlin 2009TM and the 6th FIFA Women's World Cup 2011TM , the VIP areas, changing rooms, and the underground warm-up training hall. Enjoy the impressive perspective of a state of the art stadium from the edge of the blue tartan track while your guide tells you all about the history and architecture of the Olympiastadion Berlin
Location
Olympiastadion Berlin
Olympischer Platz 3
14053 Berlin
Germany
Plan route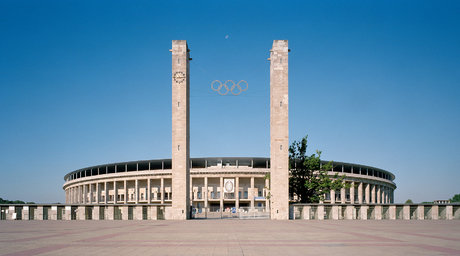 Nicht nur für Fans des Fußball-Bundesligisten Hertha BSC ist das Berliner Olympiastadion eine Top-Sehenswürdigkeit und Ort der Emotionen. Als eines der größten und bedeutendsten Stadien der Republik ist das Olympiastadion die zentrale Ausrichtungsstätte für Sportgroßveranstaltungen, Open-Air Konzerte und andere Großveranstaltungen. 2006 war das Stadion Spielort und Endspielort der Fußball-Weltmeisterschaft und beherbergt alljährlich das DFB-Pokal-Finale.

Anlässlich der Olympischen Sommerspiele 1936 wurde das Berliner Olympiastadion zwischen 1934 und 1936 erbaut. Das Gelände befindet sich in Westend im Berliner Bezirk Charlottenburg-Wilmersdorf und umfasst, neben dem Olympiastadion, noch das Sportforum, das Hockey-Olympiastadion, das Olympia-Reiterstadion, das Olympia-Schwimmstadion, die Waldbühne, das Maifeld, der Glockenturm und die Langemarckhalle. Aufgrund seiner geschichtlichen Bedeutung steht das gesamte Gelände als historischer Ort unter Denkmalschutz. Geschichtsinteressierte können auf einem Historienpfad Informationen über Entstehung und Geschichte zur Weltkriegszeit erlangen und das Stadion durch das abwechslungsreiche Tourismusprogramm in seiner ganzen Vielfalt erschließen. Rund 300.000 Besucher aus aller Welt strömen seit der Neueröffnung 2004 an veranstaltungsfreien Tagen in das Fünf-Sterne -Stadion und machen es zu einer der beliebtesten Sehenswürdigkeiten der deutschen Hauptstadt Berlin. Perfekt an das Berliner Nahverkehrnetz angeschlossen ist auch ein bequemes Erreichen gewährleistet.

Erleben Sie im Berliner Olympiastadion die Weltstars aus Sport, Musik und Kultur in einer atemberaubenden, beeindruckenden Atmosphäre.
Videos