Verschoben
Bisheriges Datum:
Heart of Gold - Those were the days - Live 2021
Bahnhofstraße 11
26122
Oldenburg
Event organiser:
Kulturetage, Bahnhofstrasse 11, 26122 Oldenburg, Deutschland
Information on concessions
Wenn eine Ermäßigung ausgewiesen ist, so gilt dieser ermäßigte Preis für Schüler, Studenten, Arbeitslose, Sozialhilfeempfänger, Wehr- und Ersatzdienstleistende und Menschen mit Behinderung (ab 50% GdB) mit entsprechender Bescheinigung. Bei einem "B" im Behindertenausweis kann die Begleitperson mit einem kostenlosen Ticket die Veranstaltung besuchen. Überprüfung am Einlass.
Location
Kulturetage
Bahnhofstr. 11
26122 Oldenburg
Germany
Plan route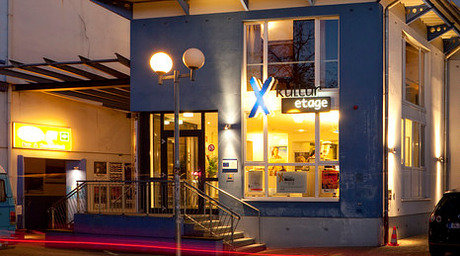 In Oldenburg ist mit der Kulturetage ein wichtiges soziokulturelles Zentrum für die Region entstanden. Mit seinem vielfältigen Programm und abwechslungsreichen Veranstaltungen spricht es Menschen sämtlicher Altersgruppen, sozialen Milieus und Nationalitäten an.

1986 gegründet, ist die Kulturetage mittlerweile die größte Kultureinrichtung der Stadt und bietet mit mehreren Räumlichkeiten Platz für über 1000 Personen. Jährlich findet hier der Oldenburger Kultursommer statt, einer dreiwöchigen Veranstaltung, die mit verschiedenen Musik- und Kunst- Events bis zu 80.000 Besucher empfängt. Auch sonst lassen sich hier Auftritte von Künstlern sämtlicher Genres genießen, sei es Rock, Pop, Comedy oder Theater. Darüber hinaus bietet die Kulturetage immer wieder Workshops, Kurse oder auch kulturpädagogische Projekte an und ist somit ein wichtiger Anlaufpunkt für alle Bevölkerungsgruppen.

Ebenfalls in der Kulturetage beheimatet sind das "theater k" und das "Cine k", die Theater, Konzerte, Lesungen, Kabarett und Filmaufführungen anbieten, darunter auch regelmäßig eigene "k-Produktionen".