Rescheduled
Previous date:
Harakiri For The Sky - European Tour 2023
Harakiri For The Sky, Schammasch, Groza &nbsp
Hauptstrasse 73
69509
Mörlenbach
Event organiser:
LIVE MUSIC HALL, Hauptstraße 73, 69509 Mörlenbach, Deutschland
Information on concessions
Die hier bestellten Vorverkaufskarten werden Euch von unserem Kooperationspartner reservix zugesandt. Bei Fragen zu Bestellungen und Zahlungen ist reservix auch Euer erster Ansprechpartner: 0180 60 50 400 (0,20 €/Anruf inkl. MwSt. aus den Festnetzen, max. 0,60 €/Anruf inkl. MwSt. aus den Mobilfunknetzen).

Rollstuhlfahrer und Menschen mit Behinderung mit "B" im Ausweis zahlen den Normalpreis, die Begleitperson ist frei und benötigt kein eigenes Ticket.
Event info
Harakiri For The Sky
European Tour 2023
Special Guest: Schammasch
Opener: Groza
Di. 31.01.2023 / LIVE MUSIC HALL Weiher
Einlass 19:00 Uhr / Beginn 19:30 Uhr
TICKETS / Infos: www.reservix.de
#NewEvilMusic
Event location
LIVE MUSIC HALL Weiher
Hauptstraße 73
69509 Mörlenbach
Germany
Plan route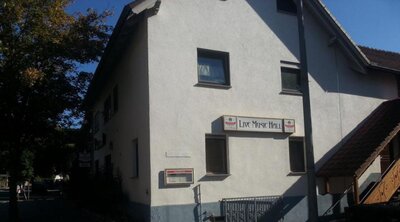 Von außen mag sie vielleicht nicht direkt auffallen, aber innen hat die LIVE MUSIC HALL in Weiher, Ortsteil der Gemeinde Mörlenbach, alles zu bieten, was sich Konzertbegeisterte und Partygäste nur wünschen können.

Seitdem die Halle zum Veranstaltungsort für Konzerte, Geburtstagspartys, Firmenfeiern oder Hochzeiten umgebaut wurde, wird hier zu bester Livemusik gerockt und gefeiert und Shows wie zum Beispiel Kabarett sorgen für super Unterhaltung. Zuvor diente die Lokalität unter anderem als Tanzsaal, Turnhalle und auch ein Motorradgeschäft hatte sich einmal eingerichtet. Der LIVE MUSIC HALL Weiher wird dadurch ein besonderes Flair verliehen. Mit dem angrenzenden urigen Pub, der die Gäste mit dem kleinem Hunger und großen Durst glücklich machen wird, ergänzt sich die Konzerthalle zu einer perfekten Location für Partys, Konzerte und andere Veranstaltungen. Das erfahrene Team steht den Veranstaltern sowie allen Gästen dabei immer mit bestem Support zur Seite. Außerdem befindet sich hier auch das gut ausgestattete Vereinsheim des Ortsvereins TSV Weiher.

Die Veranstaltungshalle liegt direkt an der Hauptstraße von Weiher, dem südöstlichen Ortsteil von Mörlenbach, und ist somit nicht zu verfehlen. Machen Sie sich auf den Weg zu angesagten Konzerten, Shows und Partys in der LIVE MUSIC HALL Weiher!