Guided Tour (incl. museum admission)
Leipziger Platz 7
10117
Berlin
Tickets from €19.50
Concessions available
Event organiser: Dalí - Die Ausstellung am Potsdamer Platz, Leipziger Platz 7, 10117 Berlin, Deutschland
Event info
Salvador Dalí excites in the heart of the town

The museum highlight "Dalí – The Exhibition At The Potsdamer Platz" with over 450 original exhibits from private collections all around the world offers the most comprehensive insight into the eclectic work of Dalí in the heart of the current cultural metropolis.

In order to assist visitors making their way through this fascinating world more easily, Dalí_Scouts are available every day to guide visitors in approximately 45 minutes tours through the exhibition. The guided tours take place five times a day at fixed hours and are provided in German and English. To avoid any inconvenience please enter the museum approx. 15 minutes before a guided tour starts.

------------------------------------------------------------------------------------------------------------------------------------

Salvador Dalí begeistert im Herzen der Hauptstadt

Das Museum "Dalí – Die Ausstellung am Potsdamer Platz" ermöglicht als Kulturhighlight und feste Institution mit über 450 originalen Exponaten den wohl umfangreichsten Einblick in Salvador Dalís virtuoses und experimentierfreudiges Schaffen. Es zeigt seine Meisterschaft in nahezu allen Techniken der Kunst direkt in Berlins pulsierender Mitte.

Um dem Besucher den Weg in Dalís faszinierende Welt zu vereinfachen, stehen täglich unsere Dalí_Scouts bereit, die den Besucher bei den nahezu stündlich stattfindenden öffentlichen Führungen 45 Minuten durch die Ausstellung geleiten. Um einen reibungslosen Ablauf zu garantieren, finden Sie sich bitte ca. 15 Minuten vor Beginn der jeweiligen Führung im Museum ein.
Location
Dalí - Die Ausstellung am Potsdamer Platz
Leipziger Platz 7
10117 Berlin
Germany
Plan route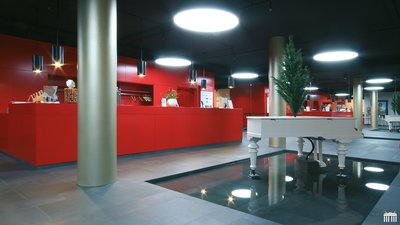 "Come into my brain" lautet das Motto des Museums im Herzen der Hauptstadt, das dem exzentrischen Künstler gewidmet ist. Als einer der Hauptvertreter des Surrealismus widmete er sich zu Lebzeiten der Welt des Unbewussten, die in den Träumen erscheint – mit einer Virtuosität, die an die alten Meister erinnert.

Das Museum wurde im Jahre 2009 als "Dalí - Die Ausstellung am Potsdamer Platz" in der neuen Mitte Berlins eröffnet und ist seither als Kunstmuseum anerkannt. Das Museum, das einen umfangreichen Einblick in das beeindruckende Œuvre des Spaniers gibt, zeigt neben der permanenten Sammlung auch regelmäßig Sonderausstellungen, die unter verschiedenen Themenpunkten Aufschlussreiches über den Künstler näherbringen.
Täglich finden zusätzlich fünf Führungen zu festen Zeiten mit Dalí-Experten, den sogenannten Dalí_Scouts, auf Deutsch und Englisch statt. Im Dialog werden Sie durch das Museum geführt und dabei werden Ihnen die Augen geöffnet für überraschende Details in den Kunstwerken.

Die klimatisierten Museumsräume sind barrierefrei zugänglich, sodass auch Rollstuhlfahrer und Familien mit Kinderwagen ungehindert ihren Aufenthalt genießen können.

Am besten erreichen Sie das Museum mit den öffentlichen Verkehrsmitteln, die direkt zum Potsdamer Platz führen. Tauchen Sie also ein in die surreale Welt des Salvador Dalí, einem der genialsten Künstler der Moderne!