GRITTY GLAMOUR
Eine queere Intervention &nbsp
Naunynstraße 27
10997
Berlin
Event organiser: Ballhaus Naunynstraße, Naunynstraße 27, 10997 Berlin, Deutschland
Event info
17.-20.1.2020

Eine queere Intervention (English with German surtitles)

Gritty Glamour nimmt uns mit in den Backstage-Bereich eines Kreuzberger Clubs. Vier Künstler*innen: Maria Sumak, Elektro-Goldstimme und Königin des Nachtlebens; Mad Rage, punk-feministische Performer*in; Molina Puig, Tänzer wie It-Girl und Greta Dietrich, Grande Dame des West-Berliner Drag-Chanson.

Während jeweils eine*r von ihnen auf der Bühne steht, erzählen sie sich in kaleidoskopartigen Momenten Geschichten aus ihrem Leben und setzen sich mit ihrem Verständnis von Community, Sex, Liebe, Diaspora, Familie und dem Verhältnis zwischen ihrer Alltags- und Bühnenpersona auseinander. Das Stück stellt Fragen nach der Sichtbarkeit von queeren, postmigrantischen Künstler*innen und thematisiert rassistische Zuschreibungen in einer weiß dominierten queeren Szene.

Text: Daniel Martins und Team
Regie: Simon*e J. Paetau
Bühnenbild und Kostüm: Michaela Muchina
Lichtdesign: Catalina Fernandez
Video: Liz Rosenfeld
Dramaturgie: Iury Trojaborg

Mit: Mad Kate, Jair Luna, Aérea Negrot, Dieter Rita Scholl

Eine Produktion von Kultursprünge im Ballhaus Naunynstraße gemeinnützige GmbH. Erstproduktion gefördert durch den Hauptstadtkulturfonds.

-------

Gritty Glamour takes us backstage in a Kreuzberg club. Four artists: Maria Sumak, golden voice of electro music and night life queen; Mad Rage, punk-feminist performer; Molina Puig, dancer and it girl, and Greta Dietrich, grande dame of West-Berlin drag chanson. While one of them at a time is on stage, they tell each other stories of their lives in kaleidoscopic moments and engage with their respective understanding of community, sex, love, Diaspora, family and the relationship between their everyday and stage persona. The play raises questions concerning the visibility of queer, post-migrant artists and addresses racist attributions in the dominant white queer scene.

All of the performers are artists and figures from Berlin's nightlife. The play interrogates the visibility of queer post-migrant artists and the role racist attributions play in a dominantly white queer scene. The artists' diverse artistic forms of expression and perspectives are celebrated in a night of performance, juxtaposed in dialogue with one another and fictionalised. Based on interviews, the experiences and stories each participant brings with them are brought to the stage, reflecting a part of the life of the protagonists in Berlin. A life in contradictory worlds, often very close to precarity, where the exploration of boundaries, of sexuality, is part of the norm and the individual self is in a constant process of negotiation. The performers slip into the roles of their counterparts, take on their identities – and in an equally interdisciplinary involvement with music, text, video and dance they also keep re-negotiating the form of what happens on stage.

Produced by Kultursprünge at Ballhaus Naunynstraße gemeinnützige GmbH. Initial production financed by the Capital Cultural Fund.
Videos
Location
Ballhaus Naunynstraße
Naunynstraße 27
10997 Berlin
Germany
Plan route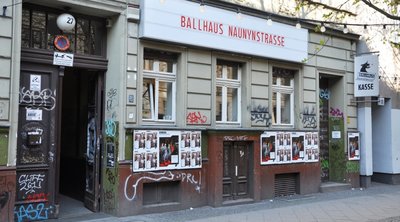 Das Ballhaus Naunynstraße versteht sich selbst als "Kristallationspunkt für Künstler_innen migrantischer und postmigrantischer Verortung". Das Haus setzt auf Eigen- und Koproduktionen mit internationalen Schauspielern und Regisseuren und wurde bereits von Kritikern der "Deutschen Bühne 2011" zum überzeugendsten Off-Theater Deutschlands gewählt.

In dem ehemaligen Ballhaus aus dem 19. Jahrhundert im Berliner Szeneviertel Friedrichshain-Kreuzberg, werden seit 1983 Theaterstücke mit thematischem Schwerpunkt auf Migration aufgeführt. Nach einem Umbau und der Wiedereröffnung 2008, übernahm der berühmte Filmregisseur, Drehbuchautor, Darsteller und Produzent Fatih Akin die Schirmherrschaft. Seitdem hat sich um das Ballhaus ein breites Netzwerk aus namhaften Künstlerinnen und Künstlern mit Migrationshintergrund aufgebaut. In mittlerweile vier Spielzeiten hat das Haus bereits über 100.000 Besucher empfangen. Außerdem findet hier jährlich das "Diyalog TheaterFest" statt, einem besonderen Theaterereignis, bei dem es hauptsächlich um den interkulturellen Austausch zwischen "Deutschen" und "Deutsch-Türken" geht.

Das Ballhaus Naunynstraße bereichert mit einem einzigartigen und überzeugenden Programm nicht nur die Berliner Theaterlandschaft, sondern trägt auch seinen Teil zum Dialog der Kulturen bei und ist somit ein wichtiger Ort um interkulturelle Erfahrungen zu sammeln und den eigenen Horizont zu erweitern.