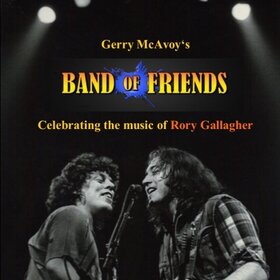 Gerry McAvoy´s BAND OF FRIENDS - A Celebration of Rory Gallagher
Juri-Gagarin-Ring 140a
99084
Erfurt
Event organiser: Veranstaltungsbüro P.O.P. Ludwig, Kirchengler Hauptstrasse 17, 99718 Großenehrich/ OT Kirchengel, Deutschland
Event info
Wer die Rockmusik liebt, kommt an Rory Gallagher nicht vorbei. Leider verstarb der gefeierte Sänger und Gitarrist viel zu früh. Umso schöner ist es, dass es nun die Band of Friends gibt. Das Trio bringt Hits wie "Bad Penny" und "I Fall Apart" in einer fulminanten Show auf die Bühne und setzt dem großen Meister dadurch ein einzigartiges Denkmal.

Hier von einer Tribute-Gruppe zu sprechen, wäre vollkommen falsch. Die Band of Friends ist nämlich die originale Backing Band. Bassist Gerry McAvoy und Schlagzeuger Ted McKenna standen mit Rory Gallagher unzählige Male auf der Bühne und begleiteten das Genie lange Zeit auf seinem Lebensweg. Nachdem der Ausnahmegitarrist 1995 verstarb, machte es sich die Band of Friends zur Lebensaufgabe, ihn und seine Musik zu feiern. In Marcel Scherpenzeel fanden die beiden Künstler die perfekte Ergänzung für ihr Projekt. Gemeinsam lassen sie nun den alten Sound wieder aufleben. Dabei sind sie dem Original manchmal so nah, dass sich die Zuschauer Augen und Ohren reiben müssen. Mehrere Preise belegen das Können dieses Trios.

Diese Show sollten Sie sich auf keinen Fall entgehen lassen. Erleben Sie die Band of Friends live und genießen ein unvergessliches Konzert ganz im Zeichen des legendären Rory Gallagher.