Gato Preto
Waldschmidtstraße 4
60316
Frankfurt am Main
Tickets from €17.50
Concessions available
Event organiser: Mousonturm, Waldschmidtstraße 4, 60316 Frankfurt am Main, Deutschland
Event info
Gato Preto has become one of the most vibrant and extravagant, contemporary African artists. Fusing music and culture from Mozambique to Germany, Ghana to Senegal, this group will have you re-thinking everything you think you know about African music. This afrofuturistic live act "doesn't just put on a show; it makes a scene", finds NPR Music. The band built their name through stunning high energetic live performances – they combine Electronic Beats with powerful live percussions and Gata's intense strong voice. Their stage outfits, the dancers and visuals make the concerts of Gato Preto to an impressive liveshow, you wouldn´t forget so quick. The music of Gato Preto is the essence of "Rockin´Favela Funk" from Rio, "Township Grooves" from South Africa and "Hybrid Tech" named Kuduro from Angola.
Location
Künstlerhaus Mousonturm
Waldschmidtstraße 4
60316 Frankfurt am Main
Germany
Plan route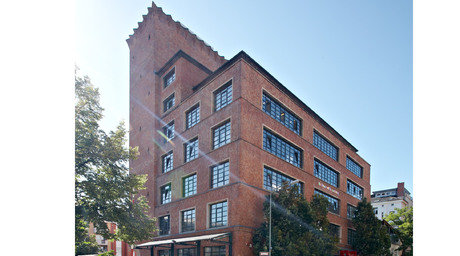 Eine ereignisreiche Geschichte verbirgt sich hinter dem Künstlerhaus Mousonturm in Frankfurt: In den 1920er Jahren als Teil der Seifen- und Parfümfabrik Mouson erbaut, galt der Turm damals als erstes Hochhaus der Stadt! Inzwischen wurde er als einziges, noch stehendes Gebäude des expressionistischen Industriebaus unter Denkmalschutz gestellt.

Seit 1988 findet man hier nun das freie Theater "Künstlerhaus Mousonturm", dessen Programm eine enorme Bandbreite von Tanz, Musik und Bildender Kunst über Literatur bis hin zu Film und Hörspiel aufweist. Als eine der ältesten Produktionsstätten für experimentelles und innovatives Theater in Deutschland, gilt das Künstlerhaus Mousonturm als wichtige Plattform für Nachwuchskünstler. Im Jahr 1999 wurde das Theater mit dem begehrten Binding-Kulturpreis ausgezeichnet!

Mit öffentlichen Verkehrsmitteln sowie eigenem PKW ist das Künstlerhaus Mousonturm sehr gut zu erreichen. Parkmöglichkeiten befinden sich ebenfalls in unmittelbarer Nähe des Theaters.