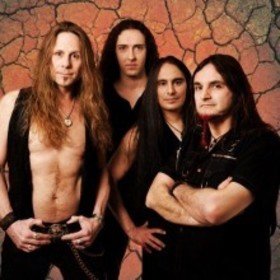 Freedom Call & guests - M.E.T.A.L Tour 2020
Ernst-Frenzl-Str. 16
93083
Regensburg - Obertraubling
Event organiser: Power Concerts GmbH, Kallmünzer Straße 16, 93133 Burglengenfeld, Deutschland
Information on concessions
Karten für Schwerbehinderte/Rollstuhlfahrer und deren Begleitperson sind nur über den Veranstalter unter der Rufnummer 09471 7038-31 erhältlich.
Event info
Freedom Call ist aus der deutschen Melodic-Metal-Szene nicht mehr wegzudenken. Kein Wunder, denn mit ihrem Happy-Metal setzen sie sich seit dem Debütalbum "Stairway To Fairyland" 1998 erfolgreich gegen alle Neider zur Wehr und begeistern mit mitreißenden Live-Shows.

Die Power-Metal-Veteranen um Sänger um Chris Bay leben für die Musik. Die genialen Riffs und hymnischen Melodien, durch die sie sich seit dem ersten Album auszeichnen, gepaart mit der Stimme Bays sorgten dafür, dass sie mindestens zu den TopTen der deutschen Metal-Bands zählen. Bevor sie 2010 zum ersten Mal auf Headliner Tour durften, teilten sie sich mit Größen wie Hammerfall oder Blind Guardian die Bühne. Und nachdem 2012 das siebte Album draußen war, wurde es auch Zeit für ein Best of. Mit den größten Hits von "Crystal Empire" über "Dimensions" bis hin zu "Land Of The Crimson Dawn" wird alles dabei sein und die Halle wird beben. Dabei können Freedom Call nicht nur richtig gute Musik machen, auch die Texte sind durchdacht: Neben Geschichten aus ihrer Fantasywelt, setzen sie sich auch mit sozialkritischen Themen wie dem Klimawandel auseinander.

Freedom Call polarisiert. Aber wenn man die hymnischen Songs mit epischen Chören und keyboardlastigen Arrangements oder die düsteren Nummern, die sie wohl ebenso gut können, erst einmal gehört hat, dann kann man nicht anders, als vor diesen Jungs den Hut zu ziehen.