Forum N | L´icône paradoxale
Elsa Benoit, Ambroisine Bré, Alain Altinoglu, hr-Sinfonieorchester &nbsp
Bertramstraße 8
60320
Frankfurt am Main
Tickets from €20.00 *
Concession price available
Event organiser:
Hessischer Rundfunk, Bertramstr. 8, 60320 Frankfurt am Main, Deutschland
Information on concessions
Ermäßigungen gelten für Schüler*innen, Studierende, Auszubildende (bis 27 Jahre) und Menschen mit Behinderung ab GdB 80. Karten für Menschen mit Behinderung, Rollstuhlfahrer*innen und Begleitpersonen bitte über 069 155 2000 buchen. Nachweise sind beim Einlass vorzuzeigen.

RMV-Kombiticket ist im Ticketpreis enthalten (außer bei Freikarten).
Event info
L'icône paradoxale

Elsa Benoit | Sopran
Ambroisine Bré | Mezzosopran
Alain Altinoglu | Dirigent

Henri Dutilleux | 2. Sinfonie »Le Double«
Claude Debussy | Ariettes oubliées
Gérard Grisey | L'icône paradoxale


Ein Spiel von Spiegeln und kontrastierenden Farben und eine Hommage an den Maler Piero della Francesca: Zwei Ikonen der französischen Musik von Henri Dutilleux und Gérard Grisey stellt Alain Altinoglu in diesem Forum N vor, nebst »vergessenen« Liedern des großen französischen Neuerers der Musik: Claude Debussy. Mit ihrem gekonnten Zusammenspiel von polyrhythmischen Effekten und jazzigen Blechbläsern machte Henri Dutilleuxs 2. Sinfonie »Le Double« den peniblen französischen Klang-Lyriker Ende der 1950er Jahre weithin bekannt und begründete seinen Ruf als einziger wahrer Nachfolger Debussys. Dessen frühe »Ariettes oubliées« auf Gedichte Paul Verlaines sind im Anschluss zu erleben, bevor mit »L'Icône paradoxale« für zwei Frauenstimmen und großes Orchester in zwei Gruppen ein zentrales Werk von Gérard Grisey kennenzulernen ist, zu dem sich der renommierte Vertreter der Klangkomposition Mitte der1990er Jahre durch ein Fresko des italienischen Frührenaissance-Meisters Piero della Francesca anregen ließ.

Konzerteinführung: 18 Uhr
Konzertdauer: ca. 105 Minuten
___________

A play of mirrors and contrasting colors and a tribute to the painter Piero della Francesca: two icons of French music by Henri Dutilleux and Gérard Grisey are presented by Alain Altinoglu in this Forum N, along with »forgotten« songs by the great French innovator of music: Claude Debussy. With its skillful interplay of polyrhythmic effects and jazzy brass, Henri Dutilleux´s Symphony No. 2 »Le Double« made the meticulous French lyricist of sound widely known in the late 1950s and established his reputation as Debussy´s only true successor. Debussy´s early »Ariettes oubliées« on poems by Paul Verlaine can then be heard, before »L´icône paradoxale« for two female voices and large orchestra in two groups, a central work by Gérard Grisey, which the renowned representative of sound composition was inspired to write in the mid-1990s by a fresco painted by Piero della Francesca, the master of early Italian Renaissance.

Concert introduction: 6 pm
Concert duration: about 105 minutes
Event location
Großer Sendesaal des Hessischen Rundfunks
Bertramstraße 8
60320 Frankfurt am Main
Germany
Plan route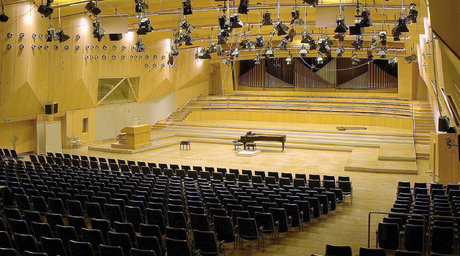 Von Klassik- und Jazzkonzerten, Kinderveranstaltungen, Kabarett, Previews, Lesungen und literarischen Gesprächen bis hin zum Deutschen Jazzfestival, Fastnachtssitzungen oder Fernsehübertragungen bietet der Sendesaal des Hessischen Rundfunks mit seinem Foyer Raum für die unterschiedlichsten Veranstaltungen. Die besondere Qualität des 1954 eingeweihten und 1987/88 komplett umgebauten hr-Sendesaals, der mit hellem Naturholz getäfelt ist, liegt nicht nur in seiner hervorragenden Akustik, sondern auch in seiner Multifunktionalität: Er ist Konzertsaal, Proberaum und modernes Tonstudio in einem, hier arbeitet das hr-Sinfonieorchester und gibt zahlreiche Konzerte, hier werden aber auch regelmäßig CD-Produktionen realisiert. An seiner Stirnseite verfügt der hr-Sendesaal über eine Konzert-Orgel. Der Publikumsbereich bietet bis zu 840 Sitzplätze.