Forum N | Kalligraphien
Bertramstraße 8
60320
Frankfurt am Main
Tickets from €20.00 *
Concessions available
Event organiser: Hessischer Rundfunk, Bertramstr. 8, 60320 Frankfurt am Main, Deutschland
Information on concessions
Ermäßigungen gelten für Schüler, Studierende (bis 27 Jahre), Auszubildende und Menschen mit Behinderung ab 80% GdB. Karten für Menschen mit Behinderung, Rollstuhlfahrer und Begleitpersonen bitte über 069 155 2000 buchen. Nachweise sind beim Einlass vorzuzeigen.

RMV-Kombiticket ist im Ticketpreis enthalten (außer bei Freikarten).
Event info
Kalligraphien

Pierre-Laurent Aimard | Klavier
Stefan Asbury | Dirigent

Tona Scherchen | TAO – für Solo-Viola und 30 Instrumente
Olivier Messiaen | Réveil des oiseaux – für Klavier und Orchester
Malika Kishino | Neues Werk (Auftragswerk des hr – Uraufführung)
Hans Zender | Schachspiel
Unsuk Chin | Graffiti
Hans Zender | Kalligraphie IV


Zwei Werke des 2019 verstorbenen Hans Zender bilden den Nukleus für ein Forum N, das sich zwischen feinstrukturierten Zeichnungen, plakativen Gesten und fernöstlichen Klangräumen bewegt. Das eine hatte das hr-Sinfonieorchester 1969 schon uraufgeführt, das andere, 1997/98 entstanden, ist von der kalligrafischen Kunst Ostasiens gezeichnet. Eine Uraufführung der Japanerin Malika Kishino sowie Tona Scherchens »TAO« greifen die asiatischen Bezüge auf. Und Pierre-Laurent Aimard ist zu Gast mit einem Meisterwerk Olivier Messiaens, der von asiatischen Traditionen ebenso angeregt wurde wie von der Welt des Vogelgesangs.

___________


Two works by Hans Zender, who died in 2019, form the nucleus of a Forum N series that moves between finely structured music images, striking gestures and Far Eastern acoustic spaces. One was premièred by Frankfurt Radio Symphony in 1969, the other, composed in 1997/98 r, is influenced by East Asian calligraphic art. A world première of a work by the Japanese composer Malika Kishino as well as Tona Scherchen´s »TAO« also include Asian references. And Pierre-Laurent Aimard can be heard playing a masterpiece by Olivier Messiaen, who was inspired by Asian traditions as he was by the world of birdsong.
Location
Großer Sendesaal des Hessischen Rundfunks
Bertramstraße 8
60320 Frankfurt am Main
Germany
Plan route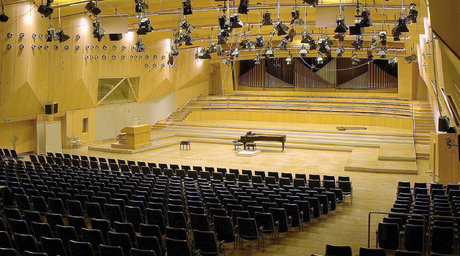 Von Klassik- und Jazzkonzerten, Kinderveranstaltungen, Kabarett, Previews, Lesungen und literarischen Gesprächen bis hin zum Deutschen Jazzfestival, Fastnachtssitzungen oder Fernsehübertragungen bietet der Sendesaal des Hessischen Rundfunks mit seinem Foyer Raum für die unterschiedlichsten Veranstaltungen. Die besondere Qualität des 1954 eingeweihten und 1987/88 komplett umgebauten hr-Sendesaals, der mit hellem Naturholz getäfelt ist, liegt nicht nur in seiner hervorragenden Akustik, sondern auch in seiner Multifunktionalität: Er ist Konzertsaal, Proberaum und modernes Tonstudio in einem, hier arbeitet das hr-Sinfonieorchester und gibt zahlreiche Konzerte, hier werden aber auch regelmäßig CD-Produktionen realisiert. An seiner Stirnseite verfügt der hr-Sendesaal über eine Konzert-Orgel. Der Publikumsbereich bietet bis zu 840 Sitzplätze.