Floydside of the moon - The Music of Pink Floyd
Vechteaue 2
48529
Nordhorn
Tickets from €23.00 *
Concessions available
Event organiser: Kultur- und Tourismuszentrum Alte Weberei Nordhorn Betriebsgeselschaft mbH, Vechteaue 2, 48529 Nordhorn, Deutschland
Information on concessions
Menschen mit Schwerbehinderung dürfen ein kostenloses Ticket für eine Begleitperson buchen.
Bei Buchung des GN-Card Tarifs GN-Card beim Einlass vorzeigen.
Event info
Coming Back To Live! ist das Credo der Pink Floyd Tribute Formation Floyd Side Of The Moon. Stets kontrovers, nie angepasst, zeitlos und generationsübergreifend – so und nicht anders ist das musikalische Lebenswerk von Pink Floyd zu beschreiben. In einer beeindruckenden Tribute-Show verneigen sich die sieben professionellen Musiker vor dem musikalischen Werk dieser Ausnahme Band.
Location
Kulturzentrum Alte Weberei
Vechteaue 2
48529 Nordhorn
Germany
Plan route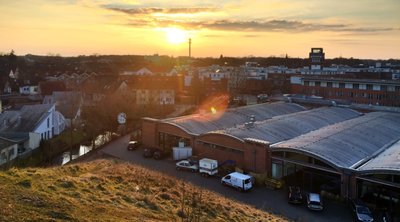 Die Alte Weberei ist eine wichtige Veranstaltungsbühne der Stadt Nordhorn an der niederländischen Grenze.

Der Saal des Kultur- &Tourismuszentrums Alte Weberei kann für fast alle nur erdenklichen Anlässe genutzt werden: Hochkarätige Konzerte, spannende Musicals, mitreißende Theatervorstellungen, romantische Hochzeiten, rauschende Bälle oder interessante Tagungen werden hier ein absoluter Erfolg.

Mit moderner Technik wird hier alles möglich!