Abgesagt
Bisheriges Datum:
Floydside of the moon - The Music of Pink Floyd
Vechteaue 2
48529
Nordhorn
Event organiser: Kultur- und Tourismuszentrum Alte Weberei Nordhorn Betriebsgeselschaft mbH, Vechteaue 2, 48529 Nordhorn, Deutschland
Die Veranstaltung ist abgesagt.
Event info
Coming Back To Live! ist das Credo der Pink Floyd Tribute Formation Floyd Side Of The Moon. Stets kontrovers, nie angepasst, zeitlos und generationsübergreifend – so und nicht anders ist das musikalische Lebenswerk von Pink Floyd zu beschreiben. In einer beeindruckenden Tribute-Show verneigen sich die sieben professionellen Musiker vor dem musikalischen Werk dieser Ausnahme Band.

BUCHUNGS-HINWEIS: ein Tisch kann immer nur durch eine Gruppe belegt werden! Wenn Sie mit Freunden oder Familie gemeinsam sitzen wollen, buchen Sie bitte GEMEINSAM. Restplätze an gebuchten Tischen werden automatisch gesperrt.
Location
Kulturzentrum Alte Weberei
Vechteaue 2
48529 Nordhorn
Germany
Plan route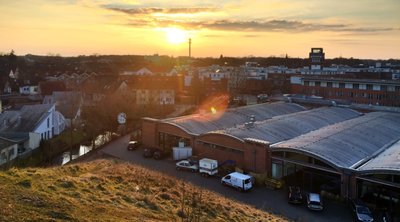 Die Alte Weberei ist eine wichtige Veranstaltungsbühne der Stadt Nordhorn an der niederländischen Grenze.

Der Saal des Kultur- &Tourismuszentrums Alte Weberei kann für fast alle nur erdenklichen Anlässe genutzt werden: Hochkarätige Konzerte, spannende Musicals, mitreißende Theatervorstellungen, romantische Hochzeiten, rauschende Bälle oder interessante Tagungen werden hier ein absoluter Erfolg.

Mit moderner Technik wird hier alles möglich!