Exposure - Deutsch oder Englisch
Jo Bannon &nbsp
Hallesches Ufer 32
10963
Berlin
Tickets from €5.00
Concessions available
Event organiser: HAU - Hebbel am Ufer, Stresemannstraße 29, 10963 Berlin, Deutschland
Information on concessions
- Ermäßigte Karten gelten für Schüler*innen, Studierende, Jugendliche im Freiwilligendienst, Sozialhilfe- oder Arbeitslosengeld-Empfänger*innen, Inhaber*innen eines Schwerbehindertenausweises, Grundwehrdienstleistende, Auszubildende sowie Empfänger*innen nach dem Asylbewerberleistungsgesetz und sind nur mit einem Nachweis gültig. Bitte halten Sie diesen am Einlass bereit.
- Karten mit Tanzcard-Ermäßigung gelten nur in Verbindung mit einer gültigen Tanzcard.
_________________________________________

- Discount tickets are available for students, young people doing voluntary civil or military service, welfare recipients, recipients of unemployment services, disabled persons with identification, work trainees, those receiving assistance in the context of asylum. Discounts available only with a valid ID and corresponding proof.
- Tickets with a Tanzcard discount are available only on presentation of a valid Tanzcard.
Event info
Wie nehmen wir andere wahr? Wie werden wir gesehen? Bannons zehnminütige Eins-zu-Eins-Performance ist eine Arbeit über den Blick und verschiedene Blicke, darüber, sich und andere in dem einen oder anderen Licht zu sehen. Die Künstlerin stellt sich selbst aus und in den Fokus. Sie ermöglicht nicht nur einen Blickwechsel mit ihr, sondern auch der Zuschauenden mit sich selbst.
Die Live-Art- und Performance-Künstlerin Jo Bannon aus Bristol zeigt ihre Arbeiten in Großbritannien und Europa, arbeitet als Dramaturgin und Produzentin. Im Zentrum ihrer Arbeit steht die Faszination für Kommunikation und Begegnung.

"Exposure" is an investigation into how we look and how we are looked at. The one to one ten-minute performance uses darkness and brightness, revealing and exposing, to question whether we can ever really see each other as we really are, see it through another's eyes - how fully we can reveal ourselves, to ourselves, to another, with one another.
The live art and performance artist Jo Bannon from Bristol shows her works in the UK and Europe, works as a dramaturg and producer of performance and live art. Her work centres on a fascination for communication and encounters.
Location
HAU2
Hallesches Ufer 32
10963 Berlin
Germany
Plan route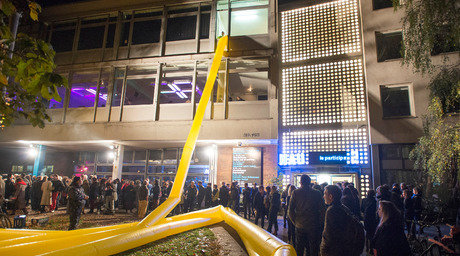 In der Spielzeit 2003/2004 haben sich drei selbstständige Bühnen zu einer neuen, einzigartigen Theaterinstitution zusammengefügt. Das Hebbel-Theater, das Theater am Halleschen Ufer und das Theater am Ufer bilden nun das "Hebbel am Ufer", kurz "HAU".

Hier weht ein frischer Wind, besonders in Person von Annemie Vanackere. Die Belgierin ist seit 2012 Intendantin des Hauses und hat sich voll und ganz der Kunst verschrieben. Sie steht für das Unkonventionelle und sammelte bereits in Gent sowie an der Schouwburg in Rotterdam Erfahrungen in der freien Theaterszene. Sie versteht das Theater als Freiraum, in dem Kunst und Ästhetik jegliche Form der Funktionalität überwinden, wodurch festgefahrene Strukturen und Denkmuster aufgebrochen werden können.

Innovation ist der kreative Motor des Theaters. Das HAU steht allerdings ebenso für Tradition: Sowie das Hebbel-Theater für internationale Gastspiele bekannt war, soll auch das Hebbel am Ufer eine Spielstätte für Künstler aus der ganzen Welt sein. So vielfältig und verschieden wie die beteiligten Akteure, ist daher auch das Programm, welches aus Theater, Tanz, Performance, Musik und Bildender Kunst besteht.