Zu Ihrer Sicherheit und der weiteren Eindämmung des Coronavirus finden alle Veranstaltungen unter Einhaltung der aktuellen gesetzlichen Vorschriften statt: Die jeweiligen Veranstalterinnen und Veranstalter tragen Sorge, dass die Hygienemaßnahmen stets überwacht und eingehalten werden.
Rescheduled
Previous date:
EUROPEAN CO-HEADLINE TOUR 2022 feat. Beyond The Black & Amaranthe - Support: Butcher Babies & Ad Infinitum
Waldstraße 312
63071
Offenbach
Event organiser:
FOH Rhein Main Concerts GmbH, Gwinnerstr. 5, 60388 Frankfurt am Main, Deutschland
Event info
Dieser Herbst wird atemberaubend! Die beiden vielversprechendsten Bands des modernen Melodic Metals werden gemeinsam Europa mit einer fantastischen Tour im Sturm erobern. BEYOND THE BLACK und AMARANTHE spielen am 22. Oktober 2022 in der Stadthalle Offenbach um die Botschaft einer neuen Generation im Metal über den gesamten Kontinent zu verbreiten!
Event location
Stadthalle Offenbach
Waldstraße 312
63071 Offenbach
Germany
Plan route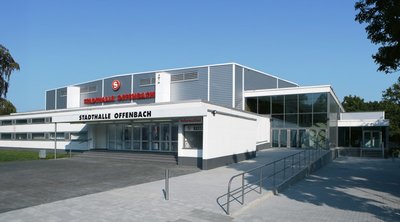 In der Stadthalle Offenbach am Main gastierten bereits internationale und nationale Top-Acts wie AC/DC, Depeche Mode, Nena, Robbie Williams und Sarah Connor. Seit ihrer Einweihung 1966 ist die multifunktionale Kongress- und Eventhalle der drittgrößte Veranstaltungsort im Rhein-Main-Gebiet. Mit ihren individuellen Veranstaltungskonzepten, einer angenehmen Grundoptik und der flexiblen Raumnutzungsmöglichkeiten, bietet die Stadthalle stets den optimalen Rahmen für Tagungen, Konzerte, Messen, Shows oder Betriebsversammlungen.

Die Stadthalle Offenbach glänzt mit Großzügigkeit auf vielseitigen 1.344qm, die auf bis zu 4.000 Personen ausgerichtet sind. Mit einem hellen Foyer, einer freundlichen Atmosphäre, behindertengerechten Zugängen und dem verdunkelbaren Konferenzraum, verfügt die Veranstaltungshalle über viele komfortable Merkmale, die einen Aufenthalt besonders angenehm gestalten. Im Süden Offenbachs, im Stadtteil Tempelsee, ist der Veranstaltungsort verkehrstechnisch gut an den öffentlichen Nahverkehr angebunden. Auf dem gegenüberliegenden Park+Ride Parkplatz stehen 250 Stellplätzen zur Verfügung.

Schauen Sie bei einer der mitreißenden Veranstaltungen in der Stadthalle vorbei und genießen Sie das abwechslungsreiche Unterhaltungsprogramm in Offenbach am Main.