Efterklang
Waldschmidtstraße 4
60316
Frankfurt am Main
Tickets from €35.50
Concessions available
Event organiser: Mousonturm, Waldschmidtstraße 4, 60316 Frankfurt am Main, Deutschland
Event info
Seven years after their last album release, the Danish trio Efterklang make a welcome return with a fifth studio record "Altid Sammen" on 20 September. "Altid Sammen" (meaning "always together") is deep and sonorous, steeped in the sonic experimentation that has long been their trademark since Tripper, the Danes' 2004 debut. As bold and ambitious in scope as their last collection of songs, Piramida, Casper Clausen (vocals), Mads Brauer (synths, electronics) and Rasmus Stolberg (bass) have taken another creative U-turn, this time fusing baroque instrumentation with their signature expansive sound.
Location
Künstlerhaus Mousonturm
Waldschmidtstraße 4
60316 Frankfurt am Main
Germany
Plan route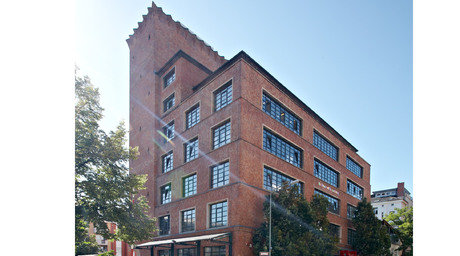 Eine ereignisreiche Geschichte verbirgt sich hinter dem Künstlerhaus Mousonturm in Frankfurt: In den 1920er Jahren als Teil der Seifen- und Parfümfabrik Mouson erbaut, galt der Turm damals als erstes Hochhaus der Stadt! Inzwischen wurde er als einziges, noch stehendes Gebäude des expressionistischen Industriebaus unter Denkmalschutz gestellt.

Seit 1988 findet man hier nun das freie Theater "Künstlerhaus Mousonturm", dessen Programm eine enorme Bandbreite von Tanz, Musik und Bildender Kunst über Literatur bis hin zu Film und Hörspiel aufweist. Als eine der ältesten Produktionsstätten für experimentelles und innovatives Theater in Deutschland, gilt das Künstlerhaus Mousonturm als wichtige Plattform für Nachwuchskünstler. Im Jahr 1999 wurde das Theater mit dem begehrten Binding-Kulturpreis ausgezeichnet!

Mit öffentlichen Verkehrsmitteln sowie eigenem PKW ist das Künstlerhaus Mousonturm sehr gut zu erreichen. Parkmöglichkeiten befinden sich ebenfalls in unmittelbarer Nähe des Theaters.