ECHOES – The Best of Pink Floyd - Eine musikalische Verneigung vor Pink Floyd
Hauptstraße 115
75196
Remchingen
Event organiser: Kulturhalle Remchingen, Hauptstraße 115, 75196 Remchingen, Deutschland
Die Veranstaltung ist in Kürze wieder buchbar!
Event info
"Echoes" nehmen ihr Publikum mit auf eine höchst emotionale Reise zur dunklen Seite des Mondes, von
"Ummagumma" über "Meddle", "Dark Side Of The Moon", "Wish You Were Here", "Animals" und "The
Wall", bis hin zur Post-Waters-Ära. Neben einem umfassenden "Best Of Pink Floyd" kommen dabei auch
so manche fast schon in Vergessenheit geratene Werke wieder zu Gehör.
Und dennoch ist ein "Echoes"-Konzert kein Nostalgie-Trip. Vielmehr zeigt die Band mit immenser Spielfreude, Liebe zum Detail, druckvollem Sound und viel Respekt vor dem Original, dass die komplexen
Pink Floyd-Epen heute noch genauso faszinierend und aktuell sind wie zur Zeit ihrer Entstehung – zeitlos
eben. Veranstalter: Kangeroo Event

Tickets AK - Stehplatz 40 € / Sitzplatz 45 €
Location
Kulturhalle Remchingen
Hauptstrasse 115
75196 Remchingen
Germany
Plan route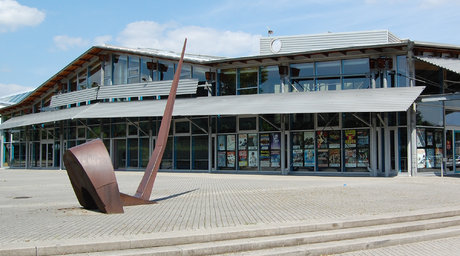 Die Kulturhalle Remchingen ist kulturelles Zentrum für unterschiedliche Veranstaltungen in Remchingen: Neben Konzerten, Opern, Musicals und Theaterstücken, bieten die Halle Platz für Firmen- und Vereinsveranstaltungen. Die außergewöhnliche Architektur und die multifunktionalen Nutzungsmöglichkeiten machen die Kulturhalle zum flexiblen und modernen Austragungsort.

Seit über 20 Jahren steht die Kulturhalle Remchingen im Dienste anspruchsvoller Unterhaltung. Programmqualität und Publikumsresonanz konnten stets erfüllt beziehungsweise ausgebaut werden. Ein Auftritt in der Halle ist für viele Künstler fester Bestanteil im Tourneeplan. Neben öffentlichen Veranstaltungen, können die Räumlichkeiten auch für Fortbildungen oder Familienfeiern genutzt werden. Die mit modernster Technik ausgestatteten Räume bieten Platz für 20 – 1500 Personen.

Die verkehrsgünstige Lage und der exzellente Service machen die Kulturhalle zum idealen Austragungsort für Ihre Veranstaltung!