Eartha´s Guide to Everyday Living
N.E.W. + Guests &nbsp
Gustav-Adolf-Straße 2
13086
Berlin
Tickets from €13.00
Concessions available
Event organiser: Per Aspera e.V., Gustav-Adolf-Str. 2, 13086 Berlin, Deutschland
Information on concessions
Ermäßigung erhalten Schüler/innen, Studierende, Auszubildende, Schwerbehinderte, Arbeitslose, Sozialhilfeempfänger/innen und FSJler auch im Vorverkauf gegen Vorlage des entsprechenden Ausweises und nach Verfügbarkeit.

Rollstuhlfahrer bitten wir, ihren Besuch vor der Vorstellung unter folgender Emailadresse anzumelden. Eine Begleitperson erhält freien Eintritt.
tickets@theater-im-delphi.de
Event info
Eartha's Guide to Everyday Living ist eine Hommage an die Sängerin, Schauspielerin und Entertainerin Eartha Kitt. Eartha Kitt war ein schillernder Star der amerikanischen Jazz-, Pop und Medienwelt und ist bekannt als Catwoman aus der TV-Serie "Batman" der 1960er Jahre. Als Repräsentantin des weiblichen und afroamerikanischen Selbstbewusstseins war sie mit sexistischen, rassistischen und politischen Ressentiments konfrontiert.
N.E.W. und ihre Gäste lassen sich von Eartha Kitt in ihrer Rolle als Superheldin zu einer Raum-Klang-Bild-Performance anregen. Die cartoonartige, schrille Ästhetik der TV-Serie steht im starken Kontrast zur abstrakten Klangsprache von N.E.W. – aus dieser Spannung entsteht ein kraftvoller Sound.

Eartha's Guide to Everyday Living wird im September 2019 im Programm der Ruhrtriennale uraufgeführt.


Eartha´s Guide to Everyday Living is a tribute to the singer, actress and entertainer Eartha Kitt. Eartha Kitt was a dazzling star of the American jazz, pop and media world and is known as Catwoman from the 1960s TV series "Batman". As a representative of female and Afro-American self-confidence, she was confronted with sexist, racist and political resentments.
Location
Theater im Delphi
Gustav-Adolf-Straße 2
13086 Berlin
Germany
Plan route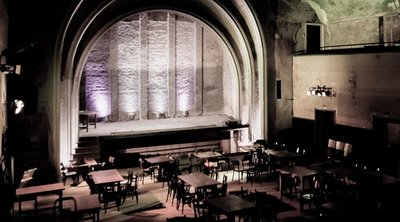 Das ehemalige Großraum- und Stummfilmkino Delphi ist ein Kunst- und Kulturraum im Gebäude des denkmalgeschützten Delphi-Theaters in Berlin.

Das Delphi-Kino wurde einst als Stummfilmkino im Jahre 1929 von Julius Krost erbaut. Das Kino bot 870 Personen Platz und wurde zur damaligen Zeit, als die Kinobranche boomte, sehr gut angenommen. Die Gegend rund um den Prenzlauer Berg, wo das Delphi liegt, wurde damals auch "Klein Hollywood" genannt, da dort damals unzählige Filmproduktionsstätten lagen. Nach der Integration von Weißensee in die Gemeinde Berlin begann der Aufstieg als internationale Filmstadt. 1959 wurde das Kino Delphi wegen baulicher Mängel geschlossen. Seit 2012 ist der Ort wieder für die Öffentlichkeit zugänglich und etablierte sich als ein Zentrum der Darstellenden Künste in der Hauptstadt. So entstand das pittoreske, einmalig schöne ehemalige Delphi und bietet heute ein breites Angebot an Theater, Tanz, Konzerten, Opern, Ausstellungen, Filmen und Hybrid-Projekten.

Neben regionalen und überregionalen Künstlern präsentieren sich im Delphi auch die Berlinale, die Fashion Week Berlin, die Transmediale sowie Hollywood. Erleben Sie das versteckte Juwel aus der Blütezeit des deutschen Films hautnah und genießen Sie künstlerische und kulturelle Highlights!