Dirty Granny Tales: Rejection
Fidicinstr. 40
10965
Berlin
Tickets from €16.50
Concessions available
Event organiser: English Theatre Berlin, Fidicinstraße 40, 10965 Berlin, Deutschland
Event info
Dirty Granny's dark tales are a combination of live acoustic music, puppetry, dance and animation projection, strongly influenced by Tim Burton and The Residents, as well as Manos Hadzidakis, David Bowie, Black Metal and progressive psychedelic rock. They also feature contemporary dance involving dolls and movement in costumes, somewhat reminiscent of Japanese gothic theater.

"Rejection" is inspired by the life of serial killer Ed Gein, who in the history of literature and film was a role model for characters like Norman Bates in "Psycho" or Leatherface from Tobe Hooper´s film "The Texas Chainsaw Massacre". Dirty Granny Tales add another dimension to the famous story of the authoritarian mother and her murderous son - the realm of the dead. How will the other souls receive him there?

The most successful production of the Dirty Granny Tales thus far, who regularly perform at the English Theatre Berlin | International Performing Arts Ceter in front of a sold-out house!

In English.
Videos
Location
F40 Berlin
Fidicinstraße 40
10965 Berlin
Germany
Plan route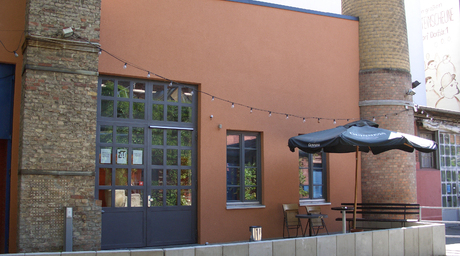 Das F40 in Berlin Kreuzberg ist seit Januar 2006 die gemeinsame Spielstätte des English Theatre Berlin und des Integrationstheaters Theater Thikwa. 90-140 Zuschauer finden vor der großen Bühne Platz. Zusätzlich bietet die Studiobühne eine Kapazität von 50-70 Plätzen.

Zur Berliner freien Szene gehörend, ist das English Theatre Berlin die einzige ausschließlich englischsprachige Bühne der Hauptstadt. Von Klassikern bis zu Neuentdeckungen, aber auch Sprechtheater und Comedy stehen hier auf dem Programm und regen Künstler und Publikum zu einem gemeinsamen Gespräch über einander und die Welt in der wir leben an. Daneben werden die Inszenierungen des Theater Thikwa von Schauspielern mit und ohne Behinderungen gemeinsam erarbeitet und auf die Bühne gebracht. Es sollen dabei nicht nur die Unterschiedlichkeiten, sondern vor allem auch die Gemeinsamkeiten der teilnehmenden Künstler zum Ausdruck gebracht werden. Auf experimentelle Weise werden die Bereiche Schauspiel, Performance, Musik, Sprache und Tanz auf ihre Abgrenzungen hin untersucht.

Zwei auf den ersten Blick völlig unterschiedliche Theater arbeiten im F40 erfolgreich unter einem Dach und locken sowohl die Liebhaber der englischen Bühne, wie auch in sozialer Hinsicht Experimentierfreudige in ihre gemeinsamen Hallen.