Verschoben
Bisheriges Datum:
DIE 90ER LIVE - Open Air Tour 2021
Mercedesstraße 40
70372
Stuttgart
Event organiser: EVENTSTIFTER GmbH, Voithstraße 8/1, 71640 Ludwigsburg, Deutschland
Event info
"Die 90er Live" kommt 2021 das erste Mal nach Stuttgart!

Am Samstag den 19.06.2021 heißt es "Die 90er sind zurück!" bei Deutschlands größter Open Air Festival Serie auf dem Cannstatter Wasen. Die 90er Live lassen das Jahrzehnt, seine Stars und die Musik wiederaufleben und feiern mit den originalen Acts von damals eine musikalische Zeitreise der Superlative.

Eiffel 65, Blümchen, Caught in the Act, Rednex, Mr. President, Masterboy & Beatrix Delgado, East 17, Dr. Alban und Turbo from Snap! sorgen für die ultimative 90er-Playlist mit Hits wie "Blue (Da Ba Dee)", "Boomerang", "Cotton Eye Joe", "Coco Jambo", "Feel The Heat Of The Night", "It's Alright", "It's My Life" und "The Power".

Grelle Neonklamotten, Plateau-Sneaker, Tattoo-Ketten und getönte Sonnenbrillen können endlich wieder ausgepackt werden, um bei der 90er Live stilecht mitzufeiern. Ein musikalisches Hitfeuerwerk mit allen Lieblingssongs und das passende Rahmenprogramm sorgen für eine grandiose Party und garantieren für eine unvergessliches Throwback-Erlebnis.
Location
Cannstatter Wasen
Mercedesstraße 50
70372 Stuttgart
Germany
Plan route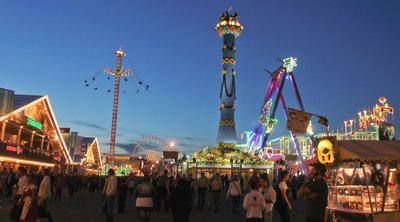 Wer kennt es nicht, das Festgelände, auf dem jährlich das Cannstatter Volksfest über die Bühne geht? Der Cannstatter Wasen ist längst Kult, nicht nur in Stuttgart. Auf dem 35 Hektar großen Festgelände finden hunderte Veranstaltungen statt, vom Volksfest über Sportmessen bis hin zu Konzerten.

Als Teil des Veranstaltungsgeländes Neckarpark wurde der Cannstatter Wasen gemeinsam mit der Hanns-Martin-Schleyer-Halle, der Porsche-Arena oder dem Olympiastützpunkt Stuttgart zu einem der größten Veranstaltungsarealen Europas. Seit 2005 wird das gesamte Gelände unter dem Namen Neckarpark geführt, vorher war es zwar praktisch namenslos, im Volksmund aber schon als Cannstatter Wasen bekannt.

Neben dem berühmten Cannstatter Volksfest finden hier auch zahlreiche Veranstaltungen für Groß und Klein statt. Zirkusaufführungen, verschiedene Messen oder Konzerte ziehen Tausende an. Sogar Bon Jovi bespielte den berühmten Platz schon!