Deva Premal & Miten with Manose and Band - On the Wings of Mantra
Deva Premal, Miten, Manose &nbsp
Münchener Str. 21
90478
Nürnberg
Event organiser: KardellMedia, Rattenberger Straße 33, 81373 München, Deutschland
Event info
DEVA PREMAL & MITEN WITH MANOSE AND BAND Join Deva Premal & Miten with Manose and their international band for a deep immersion into the power of mantra, with Deva's golden voice and Miten's songs of love and gratitude carrying us beyond our daily worries - a celebration of open hearts, moving into a timeless space together. Evenings will feature mantras from their best selling recent release, DEVA, including the transcendental Seven Chakra Gayatri Mantra. Begleite Deva Premal & Miten mit Manose und ihrer internationalen Band um tief in die Kraft der Mantras einzutauchen. Mit Devas goldener Stimme und Mitens Liedern der Liebe und Dankbarkeit, die uns über unsere täglichen Sorgen hinaustragen - eine Feier der offenen Herzen, die sich gemeinsam in einem zeitlosen Raum bewegen. An dem Abend werden Mantras aus ihrer kürzlich veröffentlichten DEVA-Veröffentlichung, darunter das transzendentale Seven Chakra Gayatri Mantra, vorgestellt.
Location
Meistersingerhalle
Münchener Straße 21
90478 Nürnberg
Germany
Plan route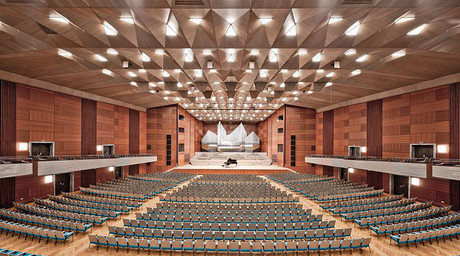 Diese Hallen bieten für jede Veranstaltung den richtigen Raum. Die Meistersingerhalle ist durch ihre vielseitigen Nutzungsmöglichkeiten und die moderne Technik zu einem der wichtigsten Veranstaltungsorte der Stadt avanciert.

Nach dreijähriger Bauzeit wurde die Halle 1963 eröffnet. Sie ist nach der Nürnberger Tradition der Meistersinger benannt. Hier finden seit der Eröffnung Veranstaltungen aller Arten statt. Für große Konzerte, aber auch Tanzbälle, Tagungen und Kongresse kann die Meistersingerhalle genutzt werden. Über 800 Veranstaltungen in den denkmalgeschützten Räumen der Meistersingerhalle locken in jedem Jahr etwa 350.000 Besucher an. Zwei Foyers, zwei Säle und mehrere Konferenzräume bieten genug Platz. Im großen Saal können 770 Choristen neben einer Steinmeyer-Orgel mit 6646 Pfeifen Platz nehmen. Und trotz dieser Größe besticht der Saal durch seine Schlichtheit. Kein Prunk lenkt den Zuhörer vom Geschehen ab. Die beiden Säle der Meistersingerhalle werden auch zu Aufnahmen klassischer Konzerte genutzt.

Im Herzen Nürnbergs ist die Meistersingerhalle zu einer festen Kulturinstitution geworden. Hier können Sie Konzerte der Spitzenklasse live erleben. Lassen Sie sich von international gefeierten Künstlern in fremde Welten entführen – es lohnt sich!