Dancing About - Deutsch und Englisch
Gob Squad &nbsp
Tempelhofer Ufer 10
10963
Berlin
Tickets from €17.00
Concessions available
Event organiser: HAU - Hebbel am Ufer, Stresemannstraße 29, 10963 Berlin, Deutschland
Event info
Wer bist du? Woran glaubst du? Und an wessen Seite stehst du, in dieser polarisierten Welt? Gob Squads erste Tanzperformance bewegt sich zwischen Erprobung performativer Versammlung, Nachtclub, ritueller Anbetung und expressiver Tanztherapie. Jeden Abend aufs Neue entsteht ein Spiel mit dem Paradox vom Kult des Individuums und unserem Bedürfnis nach Zugehörigkeit. Die Erfolgsarbeit wurde fast hundertmal im Roten Salon der Volksbühne am Rosa-Luxemburg-Platz aufgeführt und ist nun erstmalig am HAU Hebbel am Ufer zu erleben.

Programme
Press

DE
EN

Jump to content
Jump to main menu

Programme
About Us
Service
HAU3000

Schedule & Tickets

Gob Squad
Dancing About

Part of "Alles ist Material. 20 Years of 'Postdramatic Theatre'"

DanceTheatre

German / English / 120 Min.

Who are you? What do you believe in? And in an increasingly polarised world, whose side are you on? In their first dance piece in 25 years of performing together, Gob Squad have invented a new form of dance floor, part nightclub, part ritual worship, part expressive dance therapy.

Over the ages, people have congregated in various forms of popular dance rituals to express their intentions and emotions. In Dancing About, Gob Squad harness the euphoria generated through dancing and use it to show who they are today, as individuals and as a group. Before the eyes of a real praying mantis, they dance for their lives, explaining to the watching insect who they really are by turning a personal weakness, a secret passion or a shameful stigma into an improvised dance.

The paradox of the cult of the individual and our need for community becomes the central drama of the piece. The dancers form temporary teams, shifting the individual to a potential 'we'. One dances for many, many dance for one. The performers temporarily represent such diverse groups as 'atheists', 'optimists' or 'foreigners', forming constantly shifting Venn diagrams of belonging, standing up to be counted as a proud minority, sometimes a minority of one.

"Dancing About" has been performed almost 100 times in Volksbühne's Roter Salon. Now it can be experienced for the very first time at HAU Hebbel am Ufer

We like to dance.
We like to dance and we like to drink.
We like to drink and need to drink in order to cope better with our lives.
We like to drink mint tea.
We are the children of alcoholics
Our parents voted for Brexit
We have been in therapy before.
We don't believe in therapy.
Location
HAU3
Tempelhofer Ufer 10
10963 Berlin
Germany
Plan route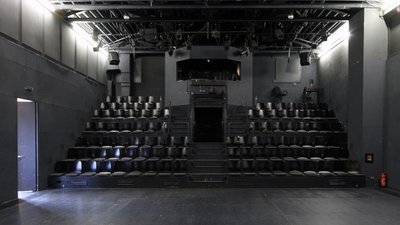 In der Spielzeit 2003/2004 haben sich drei selbstständige Bühnen zu einer neuen, einzigartigen Theaterinstitution zusammengefügt. Das Hebbel-Theater, das Theater am Halleschen Ufer und das Theater am Ufer bilden nun das "Hebbel am Ufer", kurz "HAU".

Hier weht ein frischer Wind, besonders in Person von Annemie Vanackere. Die Belgierin ist seit 2012 Intendantin des Hauses und hat sich voll und ganz der Kunst verschrieben. Sie steht für das Unkonventionelle und sammelte bereits in Gent sowie an der Schouwburg in Rotterdam Erfahrungen in der freien Theaterszene. Sie versteht das Theater als Freiraum, in dem Kunst und Ästhetik jegliche Form der Funktionalität überwinden, wodurch festgefahrene Strukturen und Denkmuster aufgebrochen werden können.

Innovation ist der kreative Motor des Theaters. Das HAU steht allerdings ebenso für Tradition: Sowie das Hebbel-Theater für internationale Gastspiele bekannt war, soll auch das Hebbel am Ufer eine Spielstätte für Künstler aus der ganzen Welt sein. So vielfältig und verschieden wie die beteiligten Akteure, ist daher auch das Programm, welches aus Theater, Tanz, Performance, Musik und Bildender Kunst besteht.