Dalí – Die Ausstellung am Potsdamer Platz - Gruppenticket Museum || GROUP TICKET museum
Leipziger Platz 7
10117
Berlin
Tickets from €11.50
Concessions available
Event organiser: Dalí - Die Ausstellung am Potsdamer Platz, Leipziger Platz 7, 10117 Berlin, Deutschland
Information on concessions
Der Gruppenpreis gilt ab 10 Personen. / Group rate is available from 10 persons.

Bei Schulklassen gilt der Eintrittspreis ab 10 Schülern im Klassenverbund, inkl. 2 Begleitpersonen. / School classes offer applies to a group of at least 10 students, incl. 2 teaachers.
Event info
Salvador Dalí begeistert im Herzen der Hauptstadt

Das Museum "Dalí – Die Ausstellung am Potsdamer Platz" ermöglicht als Kulturhighlight mit über 450 originalen Exponaten den wohl umfangreichsten Einblick in Salvador Dalís virtuoses und experimentierfreudiges Schaffen. Es zeigt seine Meisterschaft in nahezu allen Techniken der Kunst direkt in Berlins pulsierender Mitte.

"Come into my brain", lud Dalí einst selbst ein. Ganz in diesem Sinne, "Surrealismus für alle", haben nun alle Berlinbesucher die Möglichkeit, "Ihren Dalí" für sich neu zu entdecken.

Gezeigt werden aus einem Pool von über 3.000 Werken privater Sammlungen aus der ganzen Welt u. a. Lithographien, Kaltnadelradierungen, Holzschnitte, illustrierte Bücher, Dokumente und Arbeitsbelege sowie komplette Mappenwerke, inklusive der von ihm selbst gestalteten dreidimensionale Arbeiten, Skulpturen und Keramimkobjekte sowie zeitbegleitende Berichte, Texte und Filmsequenzen. In enger Zusammenarbeit mit den Sammlern und seinem Team gestaltet diese stetig wechselnde Auswahl der Initiator und Direktor, Carsten Kollmeier.

Mit Salvador Dalís erstem lithographischem Werk "Don Quichotte", bei dem er durch das Schießen mit historischen Musketen, sog. Arkebusen, auf die großen schweren Lithosteine den "Bulletismus" begründete, über seine schönsten Arbeiten in der Technik der Kaltnadelradierung, zu denen das komplette Werk "Tristan und Isolde" zählt und dem Zyklus zu Dantes "Göttliche Komödie", das umfangreichste Werk, das Dalí jemals gestaltete, bis hin zu spektakulären Skulpturen wie dem "Surrealistischen Engel", den der surrealistischer Künstler als "Gott des Surrealismus" den Menschen als Überbringer der "Frohen Botschaft des Surrealismus" auf Erden zurückließ, bietet die Ausstellung eine einzigartige Möglichkeit, Dalí neu zu entdecken. Frei nach dem Motto: Mein Dalí.

Um dem Besucher den Weg in diese faszinierende Welt zu vereinfachen, stehen täglich Dalí_Scouts bereit, die den Besucher bei den nahezu stündlich stattfindenden öffentlichen Führungen durch die Ausstellung geleiten.
------------------------------------------------------------------------------------------------------------------------------------

Salvador Dalí excites in the heart of the town

The museum highlight "Dalí – The Exhibition At The Potsdamer Platz" with over 450 original exhibits from private collections all over the world offers the most comprehensive insight into the eclectic work of Dalí in the heart of the current cultural metropolis.

Salvador Dalí, the master of the surreal, once called upon the masses "COME INTO MY BRAIN"!
The museum follows his invitation to let visitors immerse themselves in Dalí´s world of ideas.

For its display the museum has an access to over 3,000 works, including lithographs, dry point etchings, woodcuts, illustrated books, documents and books as well as complete portfolios, including three-dimensional works by the artist himself, sculptures and ceramic objects and also contemporary reports, texts and film sequences. The founder and director, Carsten Kollmeier, designed this ever-changing selection in close cooperation with the collectors and his team.

From his first lithographic work "Don Quixote", with which Dalí founded "bulletism" by shooting with antique muskets (so-called arquebuses) onto the large, heavy litho stones, through his most stunning works incorporating the dry point etching technique, which include the complete work of "Tristan and Iseult", and the cycle of Dante's "Divine Comedy", the most extensive work Dalí ever created, through to spectacular sculptures such as the "Surrealist Angel", which the artist named as the "God of Surrealism" brought down to man on earth as the bearer of the "Gospel of Surrealism", the exhibition provides a unique opportunity to re-discover Dalí. All in line with the slogan: My own Dalí.

In order to assist visitors make their way through this fascinating world more easily, Dalí_Scouts are available every day to guide visitors through the almost hourly guided tours of the exhibition.
Location
Dalí - Die Ausstellung am Potsdamer Platz
Leipziger Platz 7
10117 Berlin
Germany
Plan route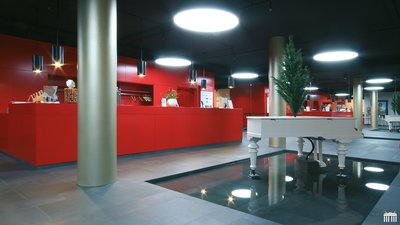 "Come into my brain" lautet das Motto des Museums im Herzen der Hauptstadt, das dem exzentrischen Künstler gewidmet ist. Als einer der Hauptvertreter des Surrealismus widmete er sich zu Lebzeiten der Welt des Unbewussten, die in den Träumen erscheint – mit einer Virtuosität, die an die alten Meister erinnert.

Das Museum wurde im Jahre 2009 als "Dalí - Die Ausstellung am Potsdamer Platz" in der neuen Mitte Berlins eröffnet und ist seither als Kunstmuseum anerkannt. Das Museum, das einen umfangreichen Einblick in das beeindruckende Œuvre des Spaniers gibt, zeigt neben der permanenten Sammlung auch regelmäßig Sonderausstellungen, die unter verschiedenen Themenpunkten Aufschlussreiches über den Künstler näherbringen.
Täglich finden zusätzlich fünf Führungen zu festen Zeiten mit Dalí-Experten, den sogenannten Dalí_Scouts, auf Deutsch und Englisch statt. Im Dialog werden Sie durch das Museum geführt und dabei werden Ihnen die Augen geöffnet für überraschende Details in den Kunstwerken.

Die klimatisierten Museumsräume sind barrierefrei zugänglich, sodass auch Rollstuhlfahrer und Familien mit Kinderwagen ungehindert ihren Aufenthalt genießen können.

Am besten erreichen Sie das Museum mit den öffentlichen Verkehrsmitteln, die direkt zum Potsdamer Platz führen. Tauchen Sie also ein in die surreale Welt des Salvador Dalí, einem der genialsten Künstler der Moderne!