Um bestmöglich für Ihre Sicherheit zu sorgen, wurden alle Veranstaltungen unseres Angebots mit den vorgeschriebenen Corona-Schutzmaßnahmen freigegeben. Dazu gehören beispielsweise Lüftungskonzepte oder Abstandsregelungen.
Cold as Ice - A Tribute to Foreigner
Am Schlossplatz 9
76437
Rastatt
Event organiser:
Ticket- und Konzertservice Rastatt, Kapellenstraße 20-22, 76437 Rastatt, Deutschland
Event info
Veranstaltung ist verlegt auf den 22.01.2022.
COLD AS ICE spielt die größten Hits der Rocklegende FOREIGNER – Live on Stage!

Die neunköpfige Formation begeistert das Publikum mit einer Foreigner-Show der Extraklasse. "Juke Box Hero", "Urgent", "Cold as Ice", "I Want to Know What Love Is" – natürlich erwarten den Zuhörer alle großen Klassiker der britisch-amerikanischen Rockband.

Die Musiker von COLD AS ICE haben es sich zur Aufgabe gemacht, den Zuhörer mit auf eine Zeitreise zu nehmen. Fast vier Jahrzehnte Musikgeschichte werden hier wieder lebendig!

COLD AS ICE - Deutschlands musikalisch authentischster FOREIGNER TRIBUTE ACT.
Videos
Location
Reithalle Rastatt
Am Schlossplatz 9
76437 Rastatt
Germany
Plan route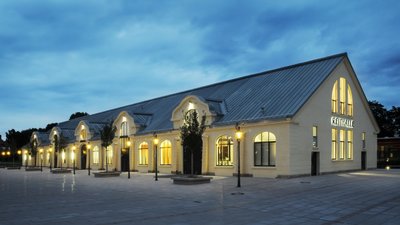 Die Reithalle Rastatt ist nicht, wie der Name zunächst vermuten ließe, Ort der Erfüllung zahlreicher Mädchenträume, sondern Bühne vieler hochkarätiger kultureller Veranstaltungen. Ausstellungen, Betriebsfeste, Kinovorstellungen oder Theaterbühnen finden hier Zugang und erfreuen seit 2008 kulturell interessierte Rastätter.

Nach umfangreichen Sanierungsarbeiten steht das denkmalgeschützte Gebäude seit 2008 für vielfältige Veranstaltungen zur Verfügung. Neben dem Kellertheater und der BadnerHalle ist Rastatt nun um einen kulturell wertvollen Ort reicher. Die Reithalle setzt sich zusammen aus dem Theater- und dem Bürgersaal. Der Theatersaal bietet Platz für bis zu 244 Zuschauer und ist die perfekte Location für Theater, Musik, Comedy und allerhand Vorträge. Mit der neuesten Technik ausgestattet und variabler Bühnengestaltung kann er dabei multifunktional eingesetzt werden.

Der Bürgersaal, der Platz für 328 Menschen bietet, verfügt über eine integrierte Küche und ist somit nicht nur für Vereinsaktivitäten, sondern auch für Betriebsfeiern, Ausstellungen oder private Feste bestens geeignet. Mit der besonderen Ausstrahlung und der perfekten Symbiose aus barocker Architektur und moderner Ausstattung bietet die Reithalle Rastatt die perfekte Kulisse für ein unvergessliches Event.