Zu Ihrer Sicherheit und der weiteren Eindämmung des Coronavirus finden alle Veranstaltungen unter Einhaltung der aktuellen gesetzlichen Vorschriften statt: Die jeweiligen Veranstalterinnen und Veranstalter tragen Sorge, dass die Hygienemaßnahmen stets überwacht und eingehalten werden.
Weitere Details
Circus I Love You
(SE FI DK FR) Deutsche Erstaufführung &nbsp
Alter Schlachthof 35
76131
Karlsruhe
Event organiser:
Kulturzentrum TOLLHAUS e.V., Alter Schlachthof 35 , 76131 Karlsruhe, Deutschland
Tickets hier derzeit nicht verfügbar. Eventuell sind Karten noch im Kartenvorverkauf im TOLLHAUS (0721 - 964 05 0) erhältlich oder hier (Ermäßigungen für Mitglieder hier nicht buchbar)
Event info
Mit einer Fülle verschiedener Zirkusdisziplinen von Hand-auf-Hand über Schleuderbrett und Rollschuhe bis zum Trapez, einer zeitgenössischen Ästhetik und Live-Musik verspricht Circus I Love You eine umwerfende Liebeserklärung an den Zirkus, die Freiheit und das Leben. Acht Akrobatinnen und Akrobaten aus fünf verschiedenen Ländern teilen ihr herausragendes Können, musizieren, was das Zeug hält, und feiern mit dem Publikum ein überbordendes Fest. Die Show für die ganze Famile zündet ein einstündiges Feuerwerk aus Akrobatik und Livemusik, das vor Lebensfreude sprüht.

60 Minuten
ab 4 Jahren

Konzept: Sade Kamppila, Julien Auger, Oskar Rask, Benoit Fauchier, Mikkel Hobitz Filtenborg, Saana Leppänen, Andil Dahl, Thibaud Rancoeur
Musik und Akrobatik: Sade Kamppila, Julien Auger, Oskar Rask, Benoit Fauchier, Kert Ridaste, Saana Leppänen, Periklis Dazy, Thibaud Rancoeur
Technik: Jose Carlos Ferrer
Produktion: Julia Simon
Administration: Pelle Tillö

Ko-Produzenten: Sirkus Aikamoinen (Fi), Möjlighetsministeriet (Swe), Kozh Productions (Fr), Le Manège - Scène Nationale de Reims (Fr), Rèseau CIEL (Fr), Les Transversales - Scène Conventionnée Cirque de Verdun (Fr), Théâtre Firmin Gémier / La Piscine – Pôle National Cirque en Ile-de-France (Fr)

Unterstützer: Wintervuur Festival Antwerpen (Be), Cirkus Cirkör (Swe), Cirko – Center for New Circus (Fi), Subtopia (Swe), Bing Bang Circus (Fr), Le Manège - Scène Nationale de Reims, Theater Op de Markt (Be), Cirk Eole (Fr)
Arts Promotion Centre Finland, Institut Francais & Region Bretagne, Nordisk Kulturkontakt, Institut Francais & Finlands Institutet Sweden, Svenska Kulturfonden Finland, Kulturrådet Sweden, The City of Stockholm, Region Stockholm


English version:
With our contemporary aesthetics, our large display of circus disciplines and live music, the show focuses on building rather than criticizing. The show is collaborative. There is no drama. The audience gathered in a circle feels included in the adventure. Our circus is absurd, death defying, simple and happy. It is the logical continuum of the slow life trend, standing for voluntary simplicity, sustainable development and culture for all. The show is an hour long cross composition of acrobatics and live music using the composition tools of long lasting music pieces such as classical music or progressive rock. We direct our power of action into a family friendly show promoting peace and love.Our circus pushes people away from an illusion, back into direct contact with reality. Our circus is always connected with the reality, and the world around the performance cannot disappear. One cannot act to do a salto, or to catch a falling acrobat. In our circus, the risk is always present, and what links people to circus artists is the tension towards failure.We believe that the fear of failure prevents people from trying. The fear of the unknown prevents people from initiating adventures. The fear of being judged prevents people from demonstrating what they believe is important. All kinds of fears make people docile and rely on consuming more than they need. We believe that facing our fears is a way to regain our freedom back from a pressurizing society that promotes living in fear. Facing fears is therefore a constant part of Circus I love you, within the production process, the creation process and the performance.We are acrobats who are best described as swiss army knifes.In the era of specialization, we prefer not to be mono­focused on one skill but to share many circus disciplines and to be musicians as well.The skills we have are the base of our artistic practice. We have spent years gaining them, and we can not renew our set of skills fast enough to please the audience of the same town again and again. This is why traveling is in the essence of what we do. We need to reach out constantly to new people. Since we are from 5 different countries, it is not a single city that would be the home of us all. Touring with a circus tent is the one way we can make our artistic vision come through and travel to all of our homes in the world.
Location
Tollhaus Kulturzentrum e.V.
Alter Schlachthof 35
76131 Karlsruhe
Germany
Plan route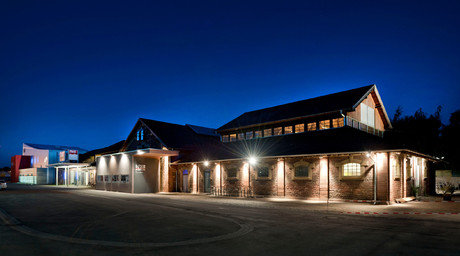 Das Tollhaus Karlsruhe ist eine der ganz besonderen Kulturinstitutionen der Region. Theater, Kabarett, Jazz, Rock und Pop finden ihren Platz auf der Bühne. Fast täglich wechselt das Programm und somit ist für jeden etwas dabei.

Angefangen hat alles mit einem kleinen Verein, der sich "Folkclub" nannte. Doch schon damals, 1978, wollten die Veranstalter über die Folk-Grenzen hinaus. Und kurzer Hand beschloss man, den "Folkclub" zum Kulturverein Tollhaus e.V. zu ändern. Und nicht nur der Name, sondern auch das Programm änderte sich entscheidend. Neben Folk-Konzerten gab es nun auch Theater und Kabarett zu sehen. Es folgten Jahre des Umbaus und der Vergrößerung und 1992 war es dann endlich soweit: Das Tollhaus fand sein neues Zuhause im Karlsruher Schlachthofgelände. Seither strömen 100.000 Besucher jährlich zu den Veranstaltungen und die Location erfreut sich größter Beliebtheit.

Das "Tollhaus Karlsruhe" ist eine einmalige Lokalität und ein Muss für Kulturbegeisterte. Tolles Ambiente und ein bunt gemischtes Publikum lassen jede Veranstaltung unvergesslich werden.
Hygienekonzept
BITTE BEACHTEN SIE
· Ihr Besuch beginnt am Veranstaltungstag immer vor dem TOLLHAUS an unserem Infopoint.
· Dort muss der 3G-Nachweis (geimpft oder genesen oder getestet) vorgelegt werden. Halten Sie den entsprechenden Nachweis bitte bereit.
· Ihre Tickets werden direkt am Einlass des jeweiligen Veranstaltungsortes gescannt.
· Ihre Sitzplätze dürfen Sie am Veranstaltungsort selbst wählen. Zwischen jeder Besuchergruppe soll ein Sitzplatz frei bleiben.
· Eine medizinische Maske muss während der Vorstellung getragen werden.
Weitere Informationen finden Sie hier:
Weitere Infos