Celestial Sorrow - Englisch und Deutsch (Sprache kein Problem)
Meg Stuart & Jompet Kuswidananto / Damaged Goods &nbsp
Hallesches Ufer 32
10963
Berlin
Event organiser: HAU - Hebbel am Ufer, Stresemannstraße 29, 10963 Berlin, Deutschland
Restkarten ggf. an der Abendkasse
Event info
Dunkelheit und Licht, Unbewusstes und Bewusstes – bei "Celestial Sorrow" scheint alles in Verbindung zu treten. Für die HAU-Koproduktion hat Meg Stuart, die 2018 den Goldenen Löwen der Biennale in Venedig für ihr Lebenswerk erhalten hat, erstmals mit Jompet Kuswidananto zusammengearbeitet. Der bildende Künstler setzt sich in seinen Arbeiten mit der Geschichte Indonesiens auseinander und untersucht die Komplexität unserer Existenz in der globalisierten Welt. Ausgehend von fiktiven Traumata entwerfen Stuart und Kuswidananto eine poetische Welt aus Licht und Bewegung. Drei Darsteller*innen (Jule Flierl, Gaëtan Rusquet, Claire Vivianne Sobottke) und zwei Musiker*innen (Mieko Suzuki, Ikbal Simamora Lubys) begeben sich auf eine Reise durch jene Räume, die allein durch Vorstellungskraft sichtbar werden.

Dark and Light, the unconscious and the conscious – in "Celestial Sorrow," everything seems to communicate with each other. For the HAU co-production, Meg Stuart, who received the Biennale de Venezia's Golden Lion for Lifetime Achievement in 2018, collaborated for the first time with the visual artist Jompet Kuswidananto. In each of his works he researches the history of Indonesia and the complexity of existence in a globalized world. Departing from fictional traumas, Stuart and Kuswidananto create a vibrant world of light and movement, inhabited by three performers (Jule Flierl, Gaëtan Rusquet, Claire Vivianne Sobottke) and two musicians (Mieko Suzuki, Ikbal Simamora Lubys). Together the group embarks on an ex­ploratory journey, moving through imaginary and invisible spaces.
Location
HAU2
Hallesches Ufer 32
10963 Berlin
Germany
Plan route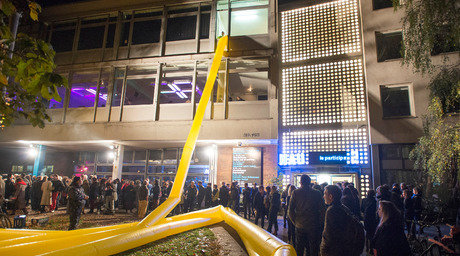 In der Spielzeit 2003/2004 haben sich drei selbstständige Bühnen zu einer neuen, einzigartigen Theaterinstitution zusammengefügt. Das Hebbel-Theater, das Theater am Halleschen Ufer und das Theater am Ufer bilden nun das "Hebbel am Ufer", kurz "HAU".

Hier weht ein frischer Wind, besonders in Person von Annemie Vanackere. Die Belgierin ist seit 2012 Intendantin des Hauses und hat sich voll und ganz der Kunst verschrieben. Sie steht für das Unkonventionelle und sammelte bereits in Gent sowie an der Schouwburg in Rotterdam Erfahrungen in der freien Theaterszene. Sie versteht das Theater als Freiraum, in dem Kunst und Ästhetik jegliche Form der Funktionalität überwinden, wodurch festgefahrene Strukturen und Denkmuster aufgebrochen werden können.

Innovation ist der kreative Motor des Theaters. Das HAU steht allerdings ebenso für Tradition: Sowie das Hebbel-Theater für internationale Gastspiele bekannt war, soll auch das Hebbel am Ufer eine Spielstätte für Künstler aus der ganzen Welt sein. So vielfältig und verschieden wie die beteiligten Akteure, ist daher auch das Programm, welches aus Theater, Tanz, Performance, Musik und Bildender Kunst besteht.