Zu Ihrer Sicherheit und der weiteren Eindämmung des Coronavirus finden alle Veranstaltungen unter Einhaltung der aktuellen gesetzlichen Vorschriften statt: Die jeweiligen Veranstalterinnen und Veranstalter tragen Sorge, dass die Hygienemaßnahmen stets überwacht und eingehalten werden.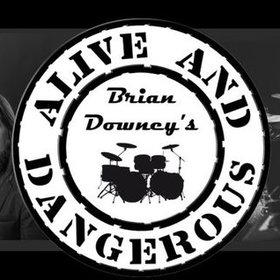 Brian Downeys Alive and Dangerous - Rock Legende Live in Gerds Juke Joint Joldelund
Brian Downeys Alive and Dangerous, RePolice &nbsp
Bahnhofstr. 1
25862
Joldelund
Event organiser:
Gerds Juke Joint, Bahnhofstr.1, 25862 Joldelund, Deutschland
Event info
Brian Downey's Alive and Dangerous? Ganz genau: Schlagzeuger, Co-Songwriter und Gründungsmitglied der irischen Kult-Rockband Thin Lizzy kommt mit seiner eigenen Tribute-Band auf Tour. Begleitet wird er unter anderem von Matthew Wilson, der dem Thin Lizzy-Bassisten Phil Lynott nicht nur ähnlich sieht: In Sachen Talent und Spielweise kommt er sehr nahe an ihn heran.

Brian Downey's Alive and Dangerous wurde 2017 ins Leben gerufen. Brian Downey bediente sich für den Namen seiner Band am Livealbum "Live and Dangerous" von Thin Lizzy. Es erschien 1978 und wurde in Großbritannien mit Platin ausgezeichnet. Das Programm ist auf ebendiese Platte ausgerichtet und beinhaltet natürlich den originalen Sound. So tourte die Formation zunächst durch Europa und spielte sich schnell in die Herzen der Fans.

Mit Brian Downey's Alive and Dangerous kann man fast schon sagen: "The Boys are Back in Town". Rockfans dürfen sich auf eine großartige Show gefasst machen. Lassen Sie sich von der Schlagzeuglegende und seiner Entourage begeistern und erleben Sie ein grandioses Konzert!