Zu Ihrer Sicherheit und der weiteren Eindämmung des Coronavirus finden alle Veranstaltungen unter Einhaltung der aktuellen gesetzlichen Vorschriften statt: Die jeweiligen Veranstalterinnen und Veranstalter tragen Sorge, dass die Hygienemaßnahmen stets überwacht und eingehalten werden.
Weitere Details
BET(A) BODIES : META-WOMB - im Rahmen des Monologfestival 2021
KEIKEN &nbsp
Klosterstraße 44
10179
Berlin
Event organiser:
TD Berlin, Klosterstraße 44, 10179 Berlin, Deutschland
Information on concessions
BUCHUNGSHINWEISE / CORONA

Mit dem Kauf eines Tickets erklären Sie sich mit den Hygienemaßnahmen und AGBs einverstanden, wie wir sie auf unserer Webseite veröffentlicht haben.

ERMÄSSIGTE Preise für Arbeitslose, Schwerbehinderte, Rentner, Studenten & Schüler bis 30 Jahre, Buftis und Mitglieder des LAFT. Bitte Ausweis beim Einlass vorzeigen.

ERMÄSSIGTE Print@Home-Tickets bitte bis 15 Minuten vor Veranstaltungsbeginn gegen Vorlage der Ermäßigungsberechtigung AN DER ABENDKASSE validieren, SONST VERLIEREN SIE IHRE GÜLTIGKEIT!

BITTE BEACHTEN: Zur Zeit ist leider kein barrierefreier Zugang möglich. Menschen mit körperlichen Beeinträchtigungen bitten wir vor dem Ticketkauf, den TD telefonisch unter 030 / 28 09 30 62 oder per Mail unter tickets@td.berlin zu kontaktieren
Event info
Im Rahmen des Monologfestival 2021

Language: English

For one night Keiken invite us into their prophetic Visions. In a mixed media performance we explore their brand new sensorial technology of the Meta-Womb and reimagine the birth of our future bodies.

Welcome to a collective shared space, created by the convergence of virtually enhanced physical reality and physically persistent virtual space: The Metaverse of Keiken. In this intriguing event incorporating live haptics, sound, visuals, performance and storytelling their new sensorial technology named Meta-womb will premiere. It will bridge our experiences into the digital realm and stimulate other-worldly senses of touch and motion. The audience will be invited to wear it and experience ist sensual attractions. Combined with narratives of future and ancient wisdom Keiken guides us to reconnect to our original technique; "We all carry within us the ability to birth new ways of existing and to the have maternal instinct of eternal love, nurture, care and compassion. That when we are born our environment is completely new and could become anything." The meta-womb technology seeks to expand empathy, not just to humans but other species and to a more cosmic space.

***Mehr Infos zum Monologfestival 2021 unter www.monologfestival.de***
Location
TD Berlin
Klosterstraße 44
10179 Berlin
Germany
Plan route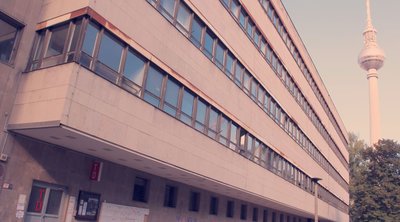 Das Theater in der Mitte der Stadt, oder auch TD Berlin, zählt zu den bedeutendsten Anlaufstellen für darstellende Künste der alternativen Szene. Als Veranstaltungsstätte bietet das TD seine Bühne und Räumlichkeiten all jenen, die sich ebenfalls nach einer kritischen Auseinandersetzung mit dem heutigen Theater sehnen. Hier werden neue Anreize geboren.

2003 gründete eine Truppe visionärer Künstlerinnen und Künstler einen Theaterdiscounter. Schon seit jeher bemüht sich das Haus um eine ganzheitliche Debatte und Weiterentwicklung bekannter Theaterformate. Mehr als dreißig Produktionen im Jahr, darunter Sprechtheater, Stückentwicklungen, Performances und mehr werden im TD Berlin ausgetragen. Und sie warten darauf, von einem neugierigen Publikum betrachtet, besprochen und weiterempfohlen zu werden.

Sie finden das TD Berlin im Zentrum zwischen Alexanderplatz und Spree. In weniger als 30 Metern erreichen Sie die nächstgelegene U-Bahnstation. Wer mit dem PKW anreist bedenke, dass Parkplatzmöglichkeiten in Berlin Mitte rar gesät und in der Regel kostenpflichtig sind.
Hygienekonzept
Hygienevorschriften und Einlassprocedere
Aktuell gilt im TD Berlin die *3G-Regel*.
Seien Sie für Ihren Besuch bitte geimpft, genesen oder tagesaktuell und offiziell getestet.
Bitte checken Sie 15-30 Minuten vor der angegebenen Startzeit ein, da der Einlass
aktuell länger dauern kann.
Weitere Infos