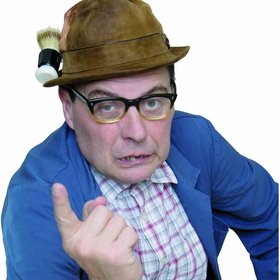 Begge Peder "Bäst of 2"
Marktplatz 6
61440
Oberursel
Event organiser: HoTi-Events, Ludwigstr. 5, 65474 Bischofsheim, Deutschland
Event info
Der Begge Peder kramt ganz tief in seiner "Erlebniswelt!" Im "Bäst of 2" bringt er in Kult - Sketches aus seinen Anfangsjahren zurück auf die Bühnenbretter!
Location
Ebbelwoi-Straußwirtschaft "Alt Orschel"
Wiederholtstraße 7 (Hofeinfahrt: Marktplatz 6)
61440 Oberursel
Germany
Plan route
Apfelwein, traditionelles Essen und eine familiäre Atmosphäre haben die Ebbelwoi-Straußwirtschaft "Alt Orschel" in Oberursel zu einer regionalen Berühmtheit gemacht. Der selbsterzeugte Ebbelwoi wird dabei natürlich im originalen 0,3 Liter Schoppeglas ausgeschenkt. Spaß und Kultur stehen hier im Vordergrund, so wird das Angebot mit Festen und Musik gekonnt erweitert.

Die Geschichte der Straußwirtschaft "Alt Orschel" begann im Jahr 1979 und wird seitdem von den Familien Blumenstein und Steden betrieben. Letztere ist Inhaber der Kelterei, in der die Äpfel gekeltert und zu Apfelwein hergestellt werden. Anfangs musste noch zwischen Scheunen und Misthaufen in kleinem Rahmen gefeiert und gelacht werden, doch nach und nach entwickelten sich die Professionalität und der Komfort für die Gäste stetig weiter.

Die Ebbelwoi-Straußwirtschaft "Alt Orschel" hat jedes Jahr nur von Mai bis Anfang September geöffnet. Doch sobald sie wieder ihre Tore öffnet, werden die Leute wieder in Scharen dorthin strömen, um guten Apfelwein zu trinken sowie gutes hessisches Essen zu speisen. Ein Abstecher nach Oberursel ist zu dieser Zeit also fast ein Muss!