Bassekou Kouyate & Ngoni ba (Mali) - Miri - Westafrikanischer Blues, Mali Groove
Viktoriastraße 10-18
12105
Berlin
Event organiser: Internationales Kultur Centrum ufaFabrik e.V., Viktoriastraße 10-18, 12105 Berlin, Deutschland
Information on concessions
Keine Ermäßigung!
Event info
Aktuelle CD Miri (Outhere Records 2019)

Er ist "ein Genie und der lebende Beweis dafür, dass der Blues aus Mali kommt", sagt Taj Mahal über seinen Kollegen Bassekou Kouyaté. Er gilt als der beste Ngoni-Spieler (traditionellen, westafrikanischen Langhals-Spießlaute) der Welt, stand bereits mit Künstlern wie Ali Farka Toure, Toumani Diabate, Taj Mahal, Joachim Kühn oder Sir Paul McCartney auf der Bühne und partizipierte mehrmals bei Damon Albarns "Africa Express". Mit seiner "groovigen" Band Ngoni ba, die aus 3 Ngonis verschiedener Stimmung, diverse Perkussionsinstrumente und der fantastischen Sängerin Amy Sacko besteht, ist er bereits weltweit auf renommierten (z.B Glastonbury, Roskilde, Fuji Rock Festival, North Sea Jazz Festival) und in Konzerthäusern wie der Elbphilharmonie erfolgreich aufgetreten. 2013 wurde er von der BBC zum "best African artist of the year" gekürt und ist sicherlich einer der interessantesten Künstler der heutigen afrikanischen Musikszene. Neben seinen Konzerten mit Ngoni Ba steht er auch für Kollaboration im Bereich Jazz, Blues & Weltmusik zur Verfügung. Er ist einer der Hauptprotagonisten beim Kinofilm "Mali Blues", der u.a. auch auf ARTE lief.



Bio:
Bassekou Kouyate was born in Garana, a small and multi-ethnic village 60 km from Segou located at the banks of the Niger river. He is descended from a long line of griots on both sides.
In the mid eighties Bassekou started playing the traditional sumu circuit, which soon put him in touch with another extraordinary musician such as the kora player Toumani Diabate. At the end of the 1980s, Bassekou became a founding member of Toumani Diabate's Symmetric Orchestra, which then included among others a young Habib Koite as lead singer. It was the Symmetric Trio that brought Bassekou to Europe for the first time to play at the festival in Dranouter in Belgium in 1990.
Later that same year, Bassekou made his first trip to the USA, where he met the African American blues musician, Taj Mahal.
In the mid 1990s Bassekou married Amy Sacko, a fine griot singer originally from northwest Mali. As a couple, they produced a number of popular cassettes and were in constant demand on the wedding circuit and on Mali television, where Amy was nicknamed "the Tina Turner of Mali".
In 2005 Bassekou was invited by Mali's "desert bluesman" Ali Farka Touré to play on his album 'Savane' and to join Ali on stage for his final tour in the summer of 2005. In the same year Bassekou decided to create his band Ngoni ba. a quartet of different sized ngonis. It was a novel idea, but it was also very old – the rulers of precolonial Segu sometimes had bands of up to 30 or 40 ngoni players, all playing together.
Since than Bassekou Kouyate & Ngoni ba have toured the world playing 100rds of shows from NY Central Park to the Royal Albert Hall in London, from Roskilde to Glastonbury.
Lately he performed with Africa Express and charged stages with musicians like Sir Paul McCartney, John Paul Jones, Damon Albarn and many more.

http://bassekoukouyate.com/
Videos
Location
ufaFabrik
Viktoriastraße 10-18
12105 Berlin
Germany
Plan route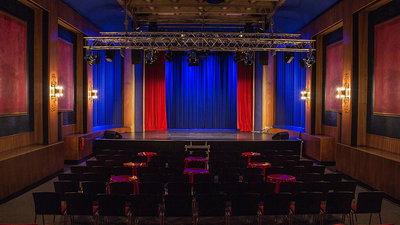 Die ufaFabrik in Berlin gilt schon längst als ein herausragender Veranstaltungsort. Auf drei unterschiedlich großen Bühnen und einer überdachten Sommerbühne werden fast täglich Events angeboten. Festivals, Theater, Gastspiele und hauseigene Produktionen locken Ensembles und Gäste gleichermaßen in den Süden des Berliner Stadtzentrums.

Bis Mitte der 70er Jahre wurden auf dem Gelände der UFA-Film Kopierwerke Träume auf Zelluloid gebannt. Nach der Schließung lag das Gelände brach. 1979 besetze eine Gruppe junger Enthusiasten friedlich das Gelände und schaffte es, das 18.566 qm große Gelände dauerhaft zu übernehmen. Seitdem haben unzählige Menschen an der Vision eines toleranten und vielfältigen Lebens mitgewirkt. Mittlerweile ist aus der Kommune ein Zentrum der kulturellen Bildung geworden. Kunst und Kultur jeder Coleur werden hier gefördert. Varieté, Weltmusik, Tanz und Kinderprogramme werden von Gruppen, die das Gelände auch für Proben nutzen können, aufgeführt. Mit drei multifunktionalen Bühnen mit 90 bis 260 Plätzen und der überdachten Sommerbühne, die über mehr als 500 Plätze verfügt, bietet die ufaFabrik jeder Veranstaltung den richtigen Rahmen. Arbeitsräume, Bühnentechnik, Logistik und fachliches Know how runden das Angebot der Fabrik ab. Trotz der überregionalen Bekanntheit hat das Veranstaltungsteam die Interessen der Kommune nicht aus den Augen verloren: Nachhaltigkeit und die Förderung junger Kultur. Kein Wunder also, dass sich die ufaFabrik größter Beliebtheit erfreut.

Genießen Sie tolle Konzerte, mitreißende Theatervorstellungen, spannende Tagungen und vieles mehr in der ufaFabrik. Hier in der europäischen Kunstmetropole Berlin lädt die Fabrik zu unvergesslichen Events ein.
Videos