Barock + | La tempesta di mare
Bertramstraße 8
60320
Frankfurt am Main
Tickets from €20.00 *
Concessions available
Event organiser: Hessischer Rundfunk, Bertramstr. 8, 60320 Frankfurt am Main, Deutschland
Event info
LA TEMPESTA DI MARE

CARSTEN WILKENING | Fagott
TROMPETER DES hr-SINFONIEORCHESTERS
MAURICE STEGER | Dirigent/Blockflöte

Georg Philipp Telemann | Ouvertüre g-Moll TWV 55:g4
Giuseppe Antonio Brescianello | Chaconne A-Dur
Georg Philipp Telemann | Konzert F-Dur für Blockflöte und Fagott TWV 52:F1
Francesco Geminiani | Konzert A-Dur für Blockflöte
Carlo Monza | Sinfonia D-Dur »La tempesta di mare«
Georg Philipp Telemann | Konzert D-Dur für drei Trompeten, Pauke und Oboe TWV 54:D4

Wenn er das Podium betrete und zu musizieren
beginne, werde »ein großes Tor aufgestoßen,
das endlich den Blick frei gibt ins weite Reich
der Musik.« Mit diesen Worten beschrieb die
Süddeutsche Zeitung die außergewöhnliche
Musikalität und auch Virtuosität des Schweizer
Blockflötisten und Dirigenten Maurice Steger.
Atemberaubend ist seine technische Bravour,
raffiniert seine Verzierungskunst. Jetzt kehrt
dieser Meister der Blockflöte zurück in die
Barock+-Reihe des hr-Sinfonieorchesters, mit
Werken von Georg Philipp Telemann, aber auch
mit ausgesprochenen Raritäten wie der naturalistischen
Sinfonia »La tempesta di mare« von
Carlo Monza.

___________

When he enters the stage and begins to play,
it is as though »a huge door is opened that finally
offers unimpeded views into the vast realm of
music.« These were the words used by the
German newspaper »Süddeutsche Zeitung« to
describe the exceptional musical talent and
virtuosity of the Swiss recorder player and conductor
Maurice Steger. His technical bravura is
breathtaking, his embellishments ingenious. This
master of the recorder is returning to play in the
Barock+ series of the Frankfurt Radio Symphony,
with works by Georg Philipp Telemann as well as
genuine rarities such as the naturalistic Sinfonia
»La tempesta di mare« by Carlo Monza.
Location
Großer Sendesaal des Hessischen Rundfunks
Bertramstraße 8
60320 Frankfurt am Main
Germany
Plan route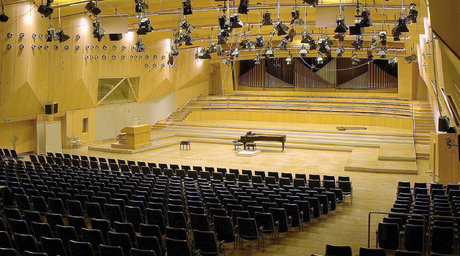 Von Klassik- und Jazzkonzerten, Kinderveranstaltungen, Kabarett, Previews, Lesungen und literarischen Gesprächen bis hin zum Deutschen Jazzfestival, Fastnachtssitzungen oder Fernsehübertragungen bietet der Sendesaal des Hessischen Rundfunks mit seinem Foyer Raum für die unterschiedlichsten Veranstaltungen. Die besondere Qualität des 1954 eingeweihten und 1987/88 komplett umgebauten hr-Sendesaals, der mit hellem Naturholz getäfelt ist, liegt nicht nur in seiner hervorragenden Akustik, sondern auch in seiner Multifunktionalität: Er ist Konzertsaal, Proberaum und modernes Tonstudio in einem, hier arbeitet das hr-Sinfonieorchester und gibt zahlreiche Konzerte, hier werden aber auch regelmäßig CD-Produktionen realisiert. An seiner Stirnseite verfügt der hr-Sendesaal über eine Konzert-Orgel. Der Publikumsbereich bietet bis zu 840 Sitzplätze.