Barock + | Herreweghe trifft Tetzlaff
Bertramstraße 8
60320
Frankfurt am Main
Tickets from €20.00
Concessions available
Event organiser: Hessischer Rundfunk, Bertramstr. 8, 60320 Frankfurt am Main, Deutschland
Event info
HERREWEGHE TRIFFT TETZLAFF

CHRISTIAN TETZLAFF | Violine
PHILIPPE HERREWEGHE | Dirigent

Johann Sebastian Bach | Violinkonzerte a-Moll und E-Dur BWV 1041/1042
Johannes Brahms | 1. Sinfonie

»Die Sprache steht immer im Zentrum – auch
bei Sinfonien von Brahms«, sagt der flämische
Dirigent Philippe Herreweghe. »Wenn ich mit
dem Orchester zum Beispiel an den Phrasierungen
arbeite, überlege ich mir einen Text und
wir nähern uns der Musik über die Flexibilität
von gesprochener Sprache an. Das kommt aus
dieser Alte-Musik-Bewegung, zu der ich gehöre.
« Entsprechend biegsam und transparent
gelingen ihm die Brahms-Sinfonien, von denen
er beim hr 2013 die »Dritte« dirigierte – die FR
schrieb von einem »Brahms-Gefühl ohne Bart
und Ärmelschoner.« Jetzt folgt die »Erste«,
dazu zwei Bach-Violinkonzerte mit dem Solisten
Christian Tetzlaff. Bach und Brahms: eine
befruchtende Symbiose.

___________

»Language is always at the core – even in
Brahms' symphonies, says Flemish conductor
Philippe Herreweghe. »When I am working on the
phrasing with the orchestra, for example, I always
think up a text and we approach the music
through the flexibility of spoken language. This
stems from the early music movement to which I
belong.« And this explains the pliability and transparency
that he achieves in Brahms' symphonies.
2013 he conducted in the hr concert season the
»Third« which the Frankfurter Rundschau
described as »Brahms feeling without a beard
or protective sleeves.« Now he is conducting the
»First« as well as two Bach Violin Concertos
with soloist Christian Tetzlaff. Bach and Brahms:
a fertile symbiosis.
Location
Großer Sendesaal des Hessischen Rundfunks
Bertramstraße 8
60320 Frankfurt am Main
Germany
Plan route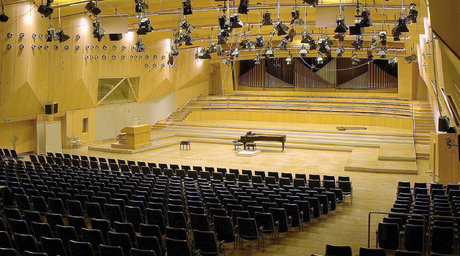 Von Klassik- und Jazzkonzerten, Kinderveranstaltungen, Kabarett, Previews, Lesungen und literarischen Gesprächen bis hin zum Deutschen Jazzfestival, Fastnachtssitzungen oder Fernsehübertragungen bietet der Sendesaal des Hessischen Rundfunks mit seinem Foyer Raum für die unterschiedlichsten Veranstaltungen. Die besondere Qualität des 1954 eingeweihten und 1987/88 komplett umgebauten hr-Sendesaals, der mit hellem Naturholz getäfelt ist, liegt nicht nur in seiner hervorragenden Akustik, sondern auch in seiner Multifunktionalität: Er ist Konzertsaal, Proberaum und modernes Tonstudio in einem, hier arbeitet das hr-Sinfonieorchester und gibt zahlreiche Konzerte, hier werden aber auch regelmäßig CD-Produktionen realisiert. An seiner Stirnseite verfügt der hr-Sendesaal über eine Konzert-Orgel. Der Publikumsbereich bietet bis zu 840 Sitzplätze.