Auftakt | Stimmungszeichner
Simone Lamsma, Ivan Repušić, hr-Sinfonieorchester &nbsp
Bertramstraße 8
60320
Frankfurt am Main
Tickets from €22.00 *
Concession price available
Event organiser:
Hessischer Rundfunk, Bertramstr. 8, 60320 Frankfurt am Main, Deutschland
Event info
Stimmungszeichner

Simone Lamsma | Violine
Ivan Repušić | Dirigent

Richard Strauss | Don Juan
Max Bruch | 1. Violinkonzert
Dora Pejačević | Sinfonie fis-Moll


»Gleich ihre ersten Töne nehmen gefangen«, hieß es 2018 in einer Rezension über ihr BruchViolinkonzert. Die Niederländerin Simone Lamsma hat auch Töne für das, was zwischen den
Zeilen steht. Und zwischen den Zeilen lässt sich vieles lesen in diesem Programm, das auch
eine rare kroatische Sinfonikerin präsentiert. Denn wer nimmt hier wen gefangen? Don Juan,
dem Frauenverführer, hat Richard Strauss ein tongewaltiges und dabei atemberaubend
selbstsicheres Denkmal gesetzt. Doch nicht weniger selbstbewusst tritt auch Dora Pejačević
auf: Als erste Frau in Kroatien komponierte diese hochsensible Kosmopolitin Orchesterwerke,
und zwar in einer Klangsprache, die zwischen dem Geist des Fin de siècle, der Pointiertheit
eines Gustav Mahler und der Spätromantik eines Sergej Rachmaninow changiert. Wie virtuos
sie den großen sinfonischen Apparat zu bedienen wusste, zeigt ihre Sinfonie aus dem Jahr
1918 – die hier der kroatische Dirigent Ivan Repušić mit dem hr-Sinfonieorchester Frankfurt
vorstellen wird, und zwar zwei Tage bevor sich der Todestag dieser bedeutendsten
Komponistin des Landes zum 100. Mal jährt.

Konzertdauer: ca. 120 Minuten
___________

»Her very first notes captivate,« a 2018 review said of her Bruch Violin Concerto. The Dutch
Simone Lamsma also has tones for what is between the lines. And much can be read between
the lines in this program, which also presents a rare Croatian female symphonist. For who
captures whom here? Richard Strauss has set a monument to Don Juan, the seducer of
women, with powerful sound and breathtaking self-confidence. But Dora Pejačević appears
no less self-confident: This highly sensitive cosmopolitan was the first woman in Croatia to
compose orchestral works, and she did so in a tonal language that oscillates between the
spirit of the fin de siècle, the pointedness of a Gustav Mahler and the late Romanticism of a
Sergei Rachmaninoff. The virtuosity with which she knew how to use the great symphonic
apparatus is demonstrated by her Symphony from 1918 – which will be presented here by the
Croatian conductor Ivan Repušić with the Frankfurt Radio Symphony, two days before the
100th anniversary of the death of this most important composer of the country.

Concert duration: about 120 minutes
Event location
Großer Sendesaal des Hessischen Rundfunks
Bertramstraße 8
60320 Frankfurt am Main
Germany
Plan route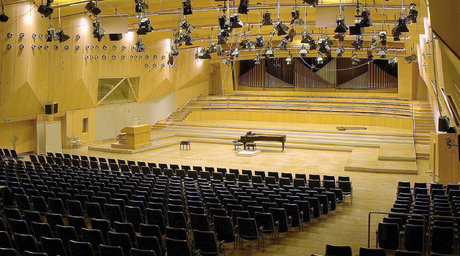 Von Klassik- und Jazzkonzerten, Kinderveranstaltungen, Kabarett, Previews, Lesungen und literarischen Gesprächen bis hin zum Deutschen Jazzfestival, Fastnachtssitzungen oder Fernsehübertragungen bietet der Sendesaal des Hessischen Rundfunks mit seinem Foyer Raum für die unterschiedlichsten Veranstaltungen. Die besondere Qualität des 1954 eingeweihten und 1987/88 komplett umgebauten hr-Sendesaals, der mit hellem Naturholz getäfelt ist, liegt nicht nur in seiner hervorragenden Akustik, sondern auch in seiner Multifunktionalität: Er ist Konzertsaal, Proberaum und modernes Tonstudio in einem, hier arbeitet das hr-Sinfonieorchester und gibt zahlreiche Konzerte, hier werden aber auch regelmäßig CD-Produktionen realisiert. An seiner Stirnseite verfügt der hr-Sendesaal über eine Konzert-Orgel. Der Publikumsbereich bietet bis zu 840 Sitzplätze.