Auftakt | Scheherazade
Bertramstraße 8
60320
Frankfurt am Main
Tickets from €20.00
Concessions available
Event organiser: Hessischer Rundfunk, Bertramstr. 8, 60320 Frankfurt am Main, Deutschland
Event info
SCHEHERAZADE

SERGEY KHACHATRYAN | Violine
ALONDRA DE LA PARRA | Dirigentin

Dmitrij Schostakowitsch | 1. Violinkonzert
Nikolaj Rimskij-Korsakow | Scheherazade

Wie Scheherazade mit den Geschichten aus
Tausendundeiner Nacht durch Kalkül, Klugheit
und Überzeugungskraft das Heft in der Hand
behielt, sieht auch die mexikanische Dirigentin
Alondra de la Parra weibliche Qualitäten für
ihren Berufsstand als Vorteil: Am Pult brauche
man »die Fähigkeit zum Multitasking, zum
Zeitmanagement, zum Führen von Menschen«,
sagt sie. »Man muss alle Instrumente zur
selben Zeit im Blick haben. Frauen können
genau das sehr gut.« Nur seine Violine im Blick
haben muss dagegen der armenische Geiger
Sergey Khachatryan – doch wenn es um das so
spukhaft-dunkle erste Schostakowitsch-Violinkonzert
mit seinem wilden Burlesque-Finale
geht, ist jeder Virtuose damit voll ausgelastet.

___________

Just as Scheherazade, with her stories from the
Arabian Nights, remained in command thanks to
her calculation, wisdom and persuasiveness, the
Mexican conductor Alondra de la Parra also sees
female qualities as an advantage for her profession:
On the rostrum you need »the skills of multitasking,
time management and leadership,« she
explains. »You have to keep an eye on every
instrument all the time. Women are very good at
that.« The Armenian violinist, Sergey Khachatryan,
on the other hand, only has to keep an eye on his
violin, but when it comes to Shostakovich's so
hauntingly dark Violin Concerto No. 1 with its wild
burlesque finale, every virtuoso will find him or
herself fully stretched.
Location
Großer Sendesaal des hessischen Rundfunks
Bertramstraße 8
60320 Frankfurt am Main
Germany
Plan route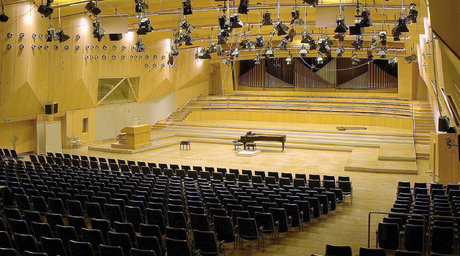 Von Klassik- und Jazzkonzerten, Kinderveranstaltungen, Kabarett, Previews, Lesungen und literarischen Gesprächen bis hin zum Deutschen Jazzfestival, Fastnachtssitzungen oder Fernsehübertragungen bietet der Sendesaal des Hessischen Rundfunks mit seinem Foyer Raum für die unterschiedlichsten Veranstaltungen. Die besondere Qualität des 1954 eingeweihten und 1987/88 komplett umgebauten hr-Sendesaals, der mit hellem Naturholz getäfelt ist, liegt nicht nur in seiner hervorragenden Akustik, sondern auch in seiner Multifunktionalität: Er ist Konzertsaal, Proberaum und modernes Tonstudio in einem, hier arbeitet das hr-Sinfonieorchester und gibt zahlreiche Konzerte, hier werden aber auch regelmäßig CD-Produktionen realisiert. An seiner Stirnseite verfügt der hr-Sendesaal über eine Konzert-Orgel. Der Publikumsbereich bietet bis zu 840 Sitzplätze.