ATROPHY - Support: Black Sachbak
Murnaustraße 2
65189
Wiesbaden
Event organiser: Kreativfabrik Wiesbaden e.V., Murnaustraße. 2, 65189 Wiesbaden, Deutschland
Event info
Aus Tucson, Arizona kommend schredden sich ATROPHY schon seit über 30 Jahren durch die Metal-Welt. Mit im Gepäck haben sie ihre Klassiker-Alben "Socialized Hate" und "Violent by Nature", die beide auf Roadrunner Records erschienen sind. "No mercy Thrash and bash shows and is eager to come give their European fans a once in a lifetime experience!"
BLACK SACHBAK waren letzten Mai schon mal bei uns und haben ordentlich abgerissen. Das wird wieder laut mit den vier Israelis!
Videos
Location
Kreativfabrik Wiesbaden e.V.
Murnaustraße 2
65189 Wiesbaden
Germany
Plan route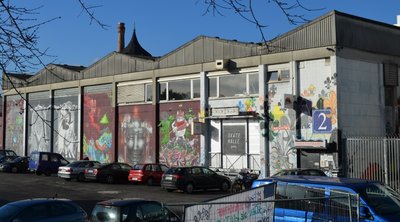 Auf dem ehemaligen Schlachthofgelände in Wiesbaden ist ein Kulturpark entstanden, zu dem seit 2002 auch die Kreativfabrik e.V. zählt. Die Türen der Kreativfabrik stehen dabei für jeden offen, der Ideen ausprobieren möchte, gemeinsam etwas für andere tun will oder das umfangreiche Veranstaltungsprogramm entdecken mag.

Aus dem Bestreben heraus, in dem neu entstehenden Kulturpark ein Haus der Begegnung einzurichten, entstand 2002 der Verein Kreativfabrik Wiesbaden. Er setzt sich aus einer bunten Gruppe aller möglichen Organisationen, Parteien und Altersgruppen zusammen und wird so auch der Vielfalt der Jugendkultur Wiesbadens gerecht. Rund um Kultur, Musik, Politik und Jugend findet man in den Räumen des früheren Fleischereinkaufs alles, was man sich vorstellen kann: Probenräume für Bands, Seminarräume und ein Gemeinschaftsraum mit Küche können auch für private Anlässe genutzt werden.

Mit dem Krea-Keller in der Kreativfabrik ist Wiesbaden um einen Veranstaltungsort reicher geworden: Hier wird seit 2009 ein facettenreiches und vor allem kreatives Programm geboten. Ausgelassene Partys und Konzerte aber auch Lesungen, Theatervorstellungen, Kunstausstellungen oder politische Veranstaltungen finden hier statt und beleben das Schlachthofgelände wieder.